We're launching a new monthly blog series, The Month in Research – a round-up of some of our research and knowledge exchange successes from the previous month.
From successful funding bids to publications, events, and everything in between, we want to showcase and celebrate the amazing work taking place across BU.
The Month in Research will be published on the first Monday of every month, starting next month (November).
We want to hear from you – fill out our short form to share your achievements, or those of your colleagues, to be featured as part of the series. You can also find a link on the homepage of the research blog or scan the QR code below to be taken to the form.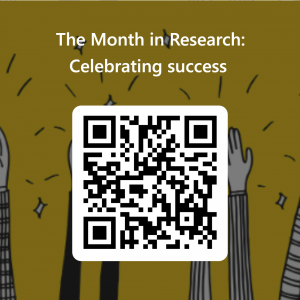 If you have any questions, or would like to find out more about the series, please contact research@bournemouth.ac.uk