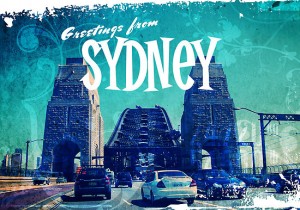 Corrina and I are finally back from the land down under after attending the excellent Australasian Research Management Society conference in Sydney in September. The conference theme this year was Transformation and we presented a session on the work we have done with business partnering techniques to transform research culture at BU. We also presented a poster about the fabulous BU Research Blog!
Both of our presentations went well and we received good feedback from other delegates. On the back of our sessions we have made some good contacts with peers at Australasian universities, some of whom have also subscribed to the blog.
In addition we also attended a number of other sessions which were extremely useful and informative. We will be adding posts to the blog about these sessions in due course.
We used the amazing Prezi for our presentation and you can access our slides by clicking on the blue image: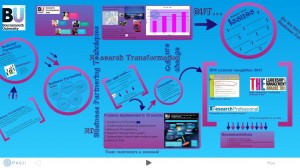 To watch the slide show simply click on 'more', then 'full screen', then use the arrow to pan through the slides.
If you are not familiar with Prezi, it is a cloud-based presentation software application that is free to use and which creates much more exciting presentations than simply using PowerPoint. You can access Prezi at: www.prezi.com.
In addition to the workshop presentation we also presented a poster about the blog for which we won 2nd prize in the poster competition. You can access a copy of our poster here: