By Dr Raian Ali, Bournemouth University; Dr Emily Arden-Close, Bournemouth University; Dr John McAlaney, Bournemouth University, and Keith Phalp, Bournemouth University.
Sports betting is worth up to £625 billion per year, with 70% of that trade reckoned to come from football. During big sporting competitions, such as the World Cup, even more money is spent gambling than usual. Over the 2018 World Cup, bookmakers are estimated to make a profit of US$36.4 billion (£41.3 billion). And in the UK, the amount of money spent on gambling during the World Cup is expected to more than double from £1 billion in 2014 to £2.5 billion this year.
Sports gambling is being driven by the unlimited availability of online betting and the fact that no physical money is exchanged, making financial transactions seem less real. The vast amount of data that online gambling sites collect also enables them to personalise offers to individual gamblers. Instead, this data should be used to help people gamble responsibly by warning users in real-time that they are exhibiting problematic gambling behaviours.
For many people, gambling isn't just a fun novelty every four years. About 430,000 citizens in the UK can be identified as problem gamblers. These individuals have lost hundreds of thousands of pounds online, which has impacted not only the gamblers but also their families.
High profile but infrequent betting events such as the Word Cup exacerbate the issues that problem gamblers face. Seeing others engage in betting, coupled with the advertisements from betting firms, leads problem gamblers to attempt to convince themselves that they do not have a problem. Environmental cues can also trigger the urge to gamble in those who have a gambling problem. So, the intensive advertising used by betting firms during the World Cup, along with media coverage of the World Cup in general, may further push problem gamblers towards making harmful decisions.
Watching your habit
Online gambling sites have an infinite memory for bets – when made, for how much, regarding what, and so on. This data is a rich source that websites use for tailoring offers and marketing material to fit a gambler's potential interests. But this personalisation exploits cognitive biases in gamblers and encourages them to increase risk-taking and by extension, gambling.
There is only a fine line between the legitimate marketing and personalisation of content and offers on the one hand and exploitation and manipulation on the other. For example, the tracking of a gambler's betting pattern means the gambler can be targeted with offers following heavy losses, encouraging them to chase losses even further.
But this same data could also be used to support reductions in problem gambling, either led by gamblers themselves or with the support of a counsellor or software. Such transparency could enhance the image of the gambling industry and make responsible gambling a shared responsibility between gamblers and bookmakers.
A chance for change
In our EROGamb project, funded by GambleAware and Bournemouth University, we advocate a policy change where gambling sites provide gambling behavioural data to gamblers and their surrogates in real-time.
This data would provide an unprecedented opportunity to tackle problem gambling. For example, the data could lead to the app informing gamblers that they are exhibiting problematic gambling patterns. The real-time collection of information such as "the gambler has reached the monthly spending limit" could trigger a message visualising their past betting behaviour and a reminder of a commitment already made.
---


Read more:
Fixed-odds betting terminal cap must be just the start of gambling regulation


---
In our studies, digital addicts, including online gambling addicts, have indicated that having access to such data would act as a wake-up call, raising awareness. Digital media users, in general, like to be in control of their usage through labels and awareness tools.
Similar facilities have started to exist in mainstream digital media. For example, on Google, it is now possible to download your data and on Facebook to download your profile data history of interaction, but not currently as real-time streaming of data as actions happen.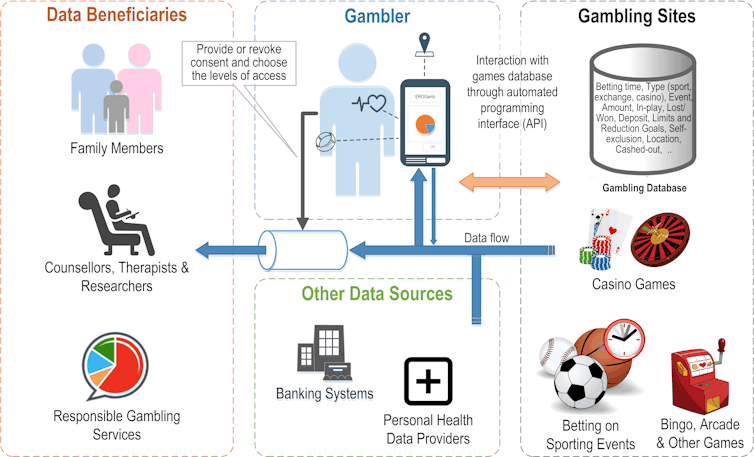 Challenges
We understand the barriers to implementing this vision. Gambling operators may not have such data readily available and may even rely on third parties to offer certain games. Some also fear that gamblers might share the data with competitor gambling sites, giving away information about marketing practices. But the General Data Protection Regulation(GDPR) right to data portability holds that gamblers shall not be prevented from accessing and sharing their data.
Given the advantages, and also the increased demand for transparency, this would eventually become the recommended practice for demonstrating advanced corporate social responsibility and inspiring the trust of the public and clients in the gambling industry. We are preparing a charter for the gambling industry towards a commitment for that.
The rise of online gambling, combined with the record amount of money being spent on gambling at this year's World Cup makes this the perfect time to discuss what we can do to prevent and combat gambling addiction. Simply by using data to help people be better aware of their gambling habits, rather than hooking them back into their next bet, gambling sites could make a massive difference.
---
More evidence-based articles related to the World Cup:
This article was originally published on The Conversation. Read the original article.