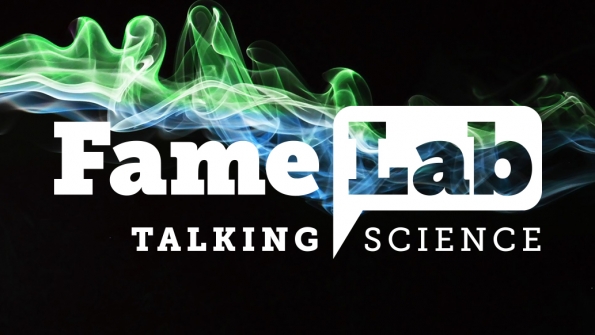 FameLab is the only international science communication competition, designed to find, train and mentor scientists and engineers to share their enthusiasm for research with the public. FameLab was started in 2005 by Cheltenham Science Festival. Since the partnership with the British Council in 2007 over 10000 scientists and engineers from 31 countries have participated, with winners coming together for the International FameLab Final at Cheltenham Science Festival each June.
Participants receive training in science communication before presenting their research in an engaging way to a live audience. Presentations must not exceed 3 minutes, must not involve PowerPoint slides, and any props used must be carried on by the participant themselves. Participants are judged on Content, Clarity and Charisma, and the best go through to the next round.
FameLab UK winners receive a weekend masterclass with a professional science communicator, an all-expenses paid trip to Cheltenham Science Festival, the opportunity to take part in the FameLab UK Final and possibly the FameLab International Final at Cheltenham Science Festival, and up to £2000 prize money.
Are you interested in…
Improving your communication skills
Talking about your research with a live audience
Joining a global network of science communicators
An all-expenses paid trip to Cheltenham Science Festival
Apply now to take part in FameLab UK  Applications close at midnight on Friday 28 February 2020. 
"FameLab has been a great chance to meet inspiring people who are doing and communicating wonderful research around the world. Learning from each other, encouraging each other and building networks that will last into the future has been a brilliant experience, and one that I've been very lucky to be a part of."
Tim Gordon, FameLab International Winner 2019
For more information or for help with the application process,  please contact Adam Morris – Engagement Officer