Today BU's professor Edwin van Teijlingen and FHSS (Faculty of Health & Social Sciences) and Visiting Faculty Jillian Ireland presented their work at NorNAM (Nordic Network of Academic Midwives).  The newly created network met in Reykjavik, Iceland for a three-day course on theories and models for midwifery.  Prof. van Teijlingen spoke about the medical/social model of pregnancy & childbirth and Jillian, who is also Professional Midwifery Advocate at Poole Hospital NHS Foundation Trust, presented the A-EQUIP model which is widely used in the UK.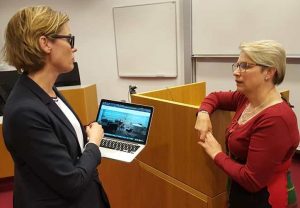 Social scientists can bring different perspectives and theoretical understandings to research into midwifery and maternity care.  Today's focus was on the social and medical model [1-5].   The medical model is 'easy' to understand, widely used in the media, based on medical science and claims to rely largely on objective measurement of symptoms and clinical observation.  It offers individual treatment solutions for individual patients.  The social model argues that there is inter-dependency between the ill person and their immediate and wider environment. The social model focuses on everyday life and the social, socio-economic, cultural and environmental aspects of health. It considers a wider range of factors that affect health, such as lifestyle, gender, poverty (or health inequality more generally), discrimination, and where and how we live.   The social model is generally not individualist, but complex and multi-dimensional and often does not offer easy solutions.  Solutions to health problem can be found at a population level and hence can be political or social as well as, for example, changes in the individual's lifestyle.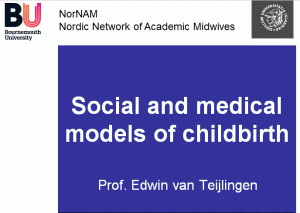 The social model maintains that pregnancy and childbirth are largely physiological events that occur in most women's lives.  Following this line of thinking, the social model argues that pregnancy and childbirth do not normally need medical intervention or the transfer to hospital.  A social model of care accepts childbirth as a normal social event in which preventative measures can be used.  The medical model portrays a different view, namely that childbirth is potentially pathological, and therefore every woman is potentially at risk when she is pregnant and/or in labour. In short the medical model wants us to believe that pregnancy and childbirth are only safe in retrospect.
The medical model is often portrayed in the media as the most appropriate and hence 'safe' approach to pregnancy and childbirth and not only 'controls' women, but also their families, friends and health care providers.  Understanding key sociological models of pregnancy and childbirth can help politicians, journalists, policy-makers, midwives, doctors, and other health care providers, childbirth activists as well as pregnant women and new mothers (and their partners) to put issues around 'normal birth' into perspective.
References:
Brailey, S., Luyben, A., Firth, L., van Teijlingen, E. (2017) Women, midwives and a medical model of maternity care in Switzerland, Int J Childbirth 7(3): 117-125.
van Teijlingen, E. (2017) The medical and social model of childbirth, Kontakt 19 (2): e73-e74
MacKenzie Bryers H., van Teijlingen, E. (2010) Risk, Theory, Social & Medical Models: critical analysis of the concept of risk in maternity care, Midwifery 26(5): 488-496.
Ireland, J., van Teijlingen, E. (2013) Normal birth: social-medical model, Practising Midwife 16 (11): 17-20.
van Teijlingen E. (2005) A critical analysis of the medical model as used in the study of pregnancy and childbirth, Sociol Res Online, 10 (2) Web address: http://www.socresonline.org.uk/10/2/teijlingen.html