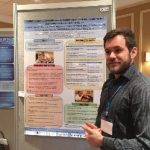 ADRC Post-doctoral Research Fellow Dr. Mike Bracher presents INSCCOPe baseline findings at the 2017 BAPEN Annual Conference Poster session.
The Ageing and Dementia Research Centre (ADRC)'s Dr. Mike Bracher presented initial findings from baseline data collection for the INSCCOPe (Implementing Nutrition Screening in Community Care for Older People) project, at the poster session of the 2017 BAPEN Annual Conference (22nd November 2017).
Led by ADRC co-lead Professor Jane Murphy, the project aims to improve screening and treatment of malnutrition for older people in the community, by exploring how best to implement service improvements for nutrition screening and treatment for malnutrition in older people.
The aim is to maximise scalability and cost effectiveness of a new procedure for screening and treatment of malnutrition in the community, by providing an evidence base to support implementation across wider settings within the health service.

ADRC co-lead Prof. Jane Murphy (left), Wessex AHSN Senior Programme Manager Kathy Wallis (centre), and Wessex AHSN Teaching and Research Fellow Dr. Emma Parsons (right) showcase INSCCOPe and other projects within the AHSN's Nutrition in Older People Programme at the 2017 BAPEN Annual Conference.
At baseline (T0), the project (using a combination of questionnaires and telephone interviews) demonstrated:
strong support for, and value placed upon, nutrition screening and treatment activity by participants;
ambivalence / doubt with respect to current logistical and organisational support for screening and treatment related activity.
Work is currently underway to implement suggested changes to implementation of the procedure identified from data collected at T1 (two months following implementation of the new procedure through training sessions with staff).
Following this, the third and final data collection point (T2 – 8 months following completion of training) will take place, after which the project will be evaluated. If successful, findings from the INSCCOPe project will inform rollout of the new procedure across Southern Health NHS Foundation Trust.
Click here to view/download the poster
or
Click here to go to the INSCCOPe project page