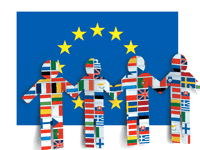 The EC has published proposals for Public Private Partnerships (PPPs) in the form of Joint Technology Initiatives. As these PPPs have academics, industry and other key stakeholders involved, they are a great way to get into EU funding. Linking up with those involved in JTIs will also help you set the direction of future funding calls. It is anticipated that calls will be made in Spring 2014 and the Joint Technology Initiatives are below.
Aeronautics and Air Transport (Clean Sky 2): focuses on developing a new generation of aircraft with noise reduction and lower emissions.
Innovative Medicines: focuses on developing the next generation of vaccines, medicines and treatments.
Fuel Cells and Hydrogen 2: focuses on significantly reducing the cost of fuel cell systems for transport and increase efficiency of fuel cells for power production.
Electronic Components and Systems for EU Leadership:  focuses on securing the supply of key technologies underpinning innovation in all sectors of the EUs economy and ensuring the best use of such technologies to accelerate economic growth.
Bio-Based Industry: focuses on developing new high value bio-based end products from raw materials.
Single EU Sky ATM research: focuses on modernising air traffic management in Europe, overcoming current fragmentation.