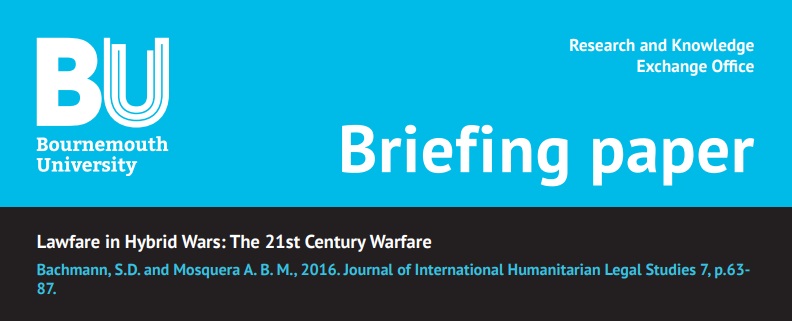 Our BU briefing papers are designed to make our research outputs accessible and easily digestible so that our research findings can quickly be applied – whether to society, culture, public policy, services, the environment or to improve quality of life. They have been created to highlight research findings and their potential impact within their field. 
---
Hybrid Warfare as a method of war is not new. Hybrid Warfare as a method of warfare has its roots in methods of war fighting of past conflicts; while not necessarily new as a category of conflict, it has the potential to change the future conceptualisation of conflict.
This paper introduces the reader to the mutating military concept of Hybrid Warfare and Lawfare, the use of law as a weapon. By examining several present and past examples, the paper tries to foster discussion and thought on how to use Lawfare affirmatively in support of own objectives and to prevent opponents from successfully using law maliciously for their own purposes and objectives.
It also includes some reflection on The North Atlantic Treaty Organization's (NATO) open source perspective on 'Hybrid Threats'.
Click here to read the briefing paper.
---
For more information about the research, contact Dr Sascha-Dominik Bachmann at sbachmann@bournemouth.ac.uk.
To find out how your research output could be turned into a BU Briefing, contact research@bournemouth.ac.uk.