The European Commission has pre-published, the Horizon 2020 Work Programme for ICT, with calls up to 2020. The finalised document is due to be released in October 2017, with calls due to open in the coming months with the first deadlines in April 2018. These calls will be available via the Participant Portal. This early notice may assist you in setting up new collaborations with a view to submission or match your existing research network connections. Please nogte that this document is still in draft so details may be subject to change prior to final publication.
Digital technologies underpin innovation and competitiveness across private and public sectors and enable scientific progress in all disciplines. The topics addressed in this Work Programme part cover the ICT technology in a comprehensive way, from technologies for Digitising European Industry, HPC, Big Data and Cloud, 5G and Next Generation Internet. Pursuing the change initiated under Work Programme 2016-2017, activities will continue to promote more innovation-orientation to ensure that the EU industry remains strong in the core technologies that are at the roots of future value chains.
Top level areas are:
CALL: Information and Communication Technologies
The Digitising European Industry initiative aims to establish next generation digital platforms and re-build the underlying digital supply chain on which all economic sectors are dependent. The initiative should enable all sector and application areas to adapt, transform and benefit from digitisation, notably by allowing also smaller players to capture value. Digital Platforms are becoming a key factor in one sector after another, enabling new types of services and applications, altering business models and creating new marketplaces. Actions under this heading will provide extensive support to key DEI components in Photonics, Robotics, Manufacturing technologies and Cyber-Physical Systems. Support to Micro-electronics, in particular for higher TRLs, will continue through the ECSEL Joint Undertaking. In addition, innovation hubs and platforms, two key DEI objectives, will be supported through a Focus Area on Digitisation and Transformation of the EU industry, implemented in cooperation with other programme parts.
The challenges to address are:
Technologies for Digitising European Industry
European Data Infrastructure: HPC, Big Data and Cloud technologies
5G
Next Generation Internet
Cross-cutting activities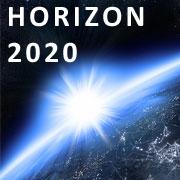 CALL: Digitising and transforming European industry and services: digital innovation hubs and platforms:
In April 2016, the Commission issued a communication outlining its strategy for allowing the European Union to fully seize the opportunities offered by digitisation across industrial and services sectors. Beyond the support to key technological areas, an essential aspect is to foster the uptake of digital technologies and innovations, as well as synergies with other key enabling technologies. The 'digitising and transforming European industry and services' focus area ambitions to support Horizon 2020's contribution to the implementation of this strategy, through projects cutting across technological boundaries and reinforcing links between LEIT and Societal Challenges.
The activities within this call are:
Support to Hubs
Platforms and Pilots
CALL: Cybersecurity
Within the next decade cybersecurity and privacy technologies should become complementary enablers of the EU digital economy, ensuring a trusted networked ICT environment for governments, businesses and individuals. The EU ambition is to become a world leader in secure digital economy. Within this call, applications to increase system resilience, support privacy and countering cyber attacks.
CALL: EU-Japan Joint Call
Topics within this call are to include the hyper-connected society in the context of the Smart City and 5G applications and beyond.
CALL: EU-Korea Joint Call
Topics within this call are to include cloud-based technologies, Internet of things, AI and 5G technologies
Other activities are included in this pre-publication draft.
If you are considering applying to any of these calls, please contact Emily Cieciura, RKEO's Research Facilitator for EU and International funding.