As as part of the ESRC Festival of Social Science 2017, organised by Bournemouth University, I ran an event about hitchhiking and micro-adventures. You may wonder, when did the practice of hitchhiking need to be thought through social science. By inviting six speakers (hitchhikers and social scientists) to Bournemouth University, we spent 3 hours thinking with and through hitchhiking and micro adventures to explore the modern experiences of passengering, ethical encounters, trust, the cost of speed and acceleration, driverless cars, social entrepreneurship, self-sufficiency, automobility and infrastructure. Other Topics Included –
Hitchhiking and the nature of being a passenger (agency, performances and resistance to standardized categories);
Contrasted affects, bodies and emotions of being on the road;
Role of media and social media in accessibility, inclusion, and diversity of micro adventures;
Systems, technologies and practices linked to friction/ frictionless travel;
The move back towards so-called 'active' and human powered mobility cultures that gives value to turbulence, friction, risk and the social exchange they engender;
The future of hitchhiking.
The role of gender, race, class, age and sexuality and other social and intersectional relationships of domination at play;
Understanding and potentially overcoming physical, mental, emotional barriers to microadventures;
Hitchhiking as Sustainable, Subversive Mobilities, Slow Mobilities;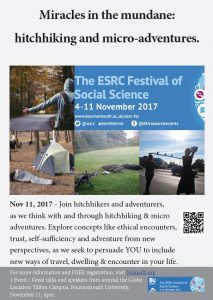 Poster for the Event
The speakers
– Dego from Glasgow, who has been hitchhiking for 30 years, spoke about hitchhiking as central to his lifestyle and work.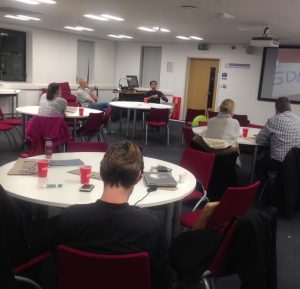 Ali Hussain presenting.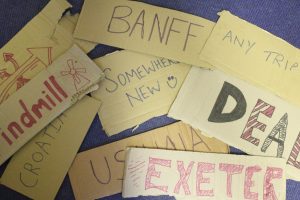 Some #hitchhiking signs from the #ESRCfestival event" Miracles in the Mundane: hitchhiking and micro-adventures" held last  Saturday,
This event was FREE to attend, and was superbly supported by Natt & Devon at the University. The event was attended by approx. 20 people and was shown LIVE on twitter and Facebook. The experience of been part of the ESRC festival of Social Science was a very positive one.  It has provided a public engagement opportunity, helped me engage with new research partners, and provided more inside into an under researched phenomenon. It has also led to discussions about organizing an event with similar topic areas in 2018.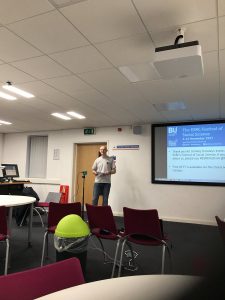 Organizer Michael O'Regan, Faculty of Management
For further information please contact FestivalofSocialScience@bournemouth.ac.uk or please visit the event website at nomadx.org