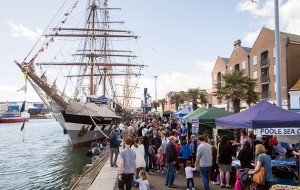 Festival of Learning on-tour is taking BU's research and expertise to some exciting locations this year so if you are interested in engaging with the public look no further!
The Poole Maritime Festival will run from  15 – 21 May this year, and Festival of Learning on-tour will join the festivities on Saturday 20 May at Baiter Park in Poole. We're expecting lots of interested members of the public with Poole Harbour Boat Show and the Seven Seas Festival forming part of Poole Maritime Festival's exciting programme. The Boat Show alone attracted over 15,000 people in 2015!
The Festival is linked with European Maritime Day, originally created in 2008 to give Europe's community of maritime professionals a forum to meet, exchange knowledge and forge partnerships. It is a unique opportunity to promote Poole, local businesses and  Bournemouth University's research to an international audience!
We are looking for public engagement activities that fit into the theme of maritime heritage and environment, but if your activity is not directly related we'd still love for you to be  involved. You can express your interest in running an activity by dropping me an email on jpawlik@gbournemouth.ac.uk and I will be able to provide you with more details and help you develop your activity.