Students and staff from the Department of Events & Leisure in the Faculty of Management recently attended an exclusive charity reception hosted by the Fastforward15 mentor programme at Basement at The London Edition, where more than £3,500 was raised, with proceeds going to Newlife Foundation, The Prince's Trust and The Clink.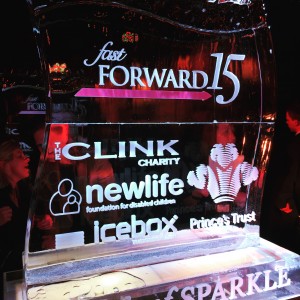 The Fast Forward 15 mentoring programme is a not for profit initiative spanning the events, hospitality and related industry providers, giving access to and insight from some of the leaders in these fields; an inspiring portfolio of influential and select talent who are willing to share their knowledge and experience with budding stars of the future. Fastforward15 founder and MD of Zibrant Fay Sharpe was on hand to support the charity event and took the time to meet with the students and encourage applications from our students.
Final year events management students Kateryna Spivek, Kathleen McLoughlin, Daisy Collins and Freya Hill attended along with Department of Events & Leisure staff Dr Debbie Sadd & Dr Mary Beth Gouthro. The students were impressed to not only meet course alumni as FastForward15 mentees, Hannah Coleman and Lauren Glynn, but got to network with other course graduates who are currently established in the industry, eg Chris Middleton of Cievents, Katie Frettingham of Live Union and Laura Dennett of Zibrant.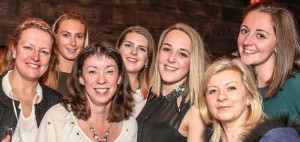 Freya Hill, final year student said 'a Night of Sparkle was a fantastic chance to meet people in all areas of the events industry – be it agency or in house. Each person I spoke to had a different perspective on the importance of events education – a topic also relevant to my dissertation. It was particularly inspiring to speak to BU grads and current Fast Forward 15 mentees and to hear of the many opportunities they have been given thanks to their degree as well as the fast forward 15 programme and their mentors'.
Student Kathleen McLoughlin also added '…from what we saw and from who I had a chance to speak to, the scheme has opened many doors for the mentees and they have accomplished so much in their year with their mentors. It was an honour to speak to Fay Sharpe herself, a very influential woman who has inspired me to apply for the scheme to aim for success!'
Fundraising activities on the night included a jewellery sale courtesy of Newlife, while raffle prizes were donated by firms including All About Flights, Green Route Africa, One & Only Cape Town, MICEBOOK and The Savoy. Following the success of its inaugural year, Fast Forward 15 is returning for 2016, offering 15 new mentees the opportunity to be
of the programme. Applications recently closed and the events management course in the Faculty of Management has some hopeful applications in the mix.  The Fastforward15 graduation and instalment of new mentees takes place at the Langham Hotel in London at the end of April.