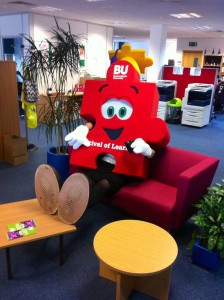 Well Professor Puzzles might be taking a tea break but the rest of in the Festival of Learning team are working our socks off as we get ready to kick off on Monday.  A massive thank you to all the academics and other members of staff involved as well!
We have a few more exciting events for you to have a look through this morning:
Date: Thursday 12 June
Time: 13.00 – 15.00
Location: Talbot Campus
BU is committed to its postgraduate research students (PGR) and has invested in its Graduate School as a focus for the co-creation of knowledge & doctoral training and providing 100s of funded doctoral studentships since 2006 and going forward to 2018.
Join members of the Graduate School team and our postgraduate researchers to find out about some of the unique and original postgraduate research currently being undertaken at BU and how it impacts our everyday life.  Discover what postgraduate research entails, including the day in the life of a PGR at BU, what opportunities are available and how you can get involved.
Date: Friday 13 June
Time: 18:00 – 20:00
Location: Lansdowne Campus
This event will provide a platform for debating issues of uncertainty in the energy supply market such as recent price hikes, its scarcity, future risks, security and their wider influences on our local and regional socio-economic landscape.
Date: Thursday 12 June
Time: 18:00 – 21:00
Location: Lansdowne Campus
What are you proud of and would want to share about Bournemouth? This participative event will discuss how you can contribute to improving the experience of visitors through becoming an 'Ambassador for Bournemouth'. Existing Bournemouth Ambassadors who would like to share their experiences are also welcome.
This event is also suitable for host families and Bournemouth residents.
Date: Thursday 12 June
Time: 18:00 – 20:00
Location: Talbot Campus
Over the centuries, Dorset has been home to popular writers who, at first glance, had very little in common. This event imagines what might have happened if they had ever all met in a Bournemouth pub.
Date: Thursday 12 June
Time: 18:00 – 19:30
Location: Talbot Campus
Ken Loach's powerful documentary, The 'Spirit of '45′, called for the older generation to talk to teenagers about the post-war welfare legacy, the importance of the NHS, workers' rights and an equal society. The Spirit of 13 project used short films to make this inter-generational dialogue happen. This workshop will share the outcomes and ask what is the spirit of 2014?