The Team Collaboration winners from the 2017 VC Staff Awards recently saw their prize legacy through with a development day. As part of the award, a staff development activity was offered to support the team on building on its success of hosting the British Conference for Undergraduate Research in April 2017 at BU. After much weighing out amongst the group into the options for activities and related calendar alignment (!), a development day was hosted at AFC Bournemouth. Much of the original team were able to take part however given the competing priorities of academic life, not everyone could make it! The programme for the day included guided tutorials from learning technologist John Moran with comprehensive input in providing the team with support of team teaching tools such as eg mentimeter, cahoot and padlet. In the afternoon, senior academic from CEL Curie Scott facilitated sessions. This included workshops on origami and collage, etc as a powerful way within pedagogy to articulate, reflect and critique within education practice.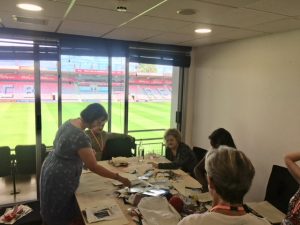 It was timely to use Curie's session and the methods within to think about future planning. Discussions then centred around sustaining work practices by connecting them, where possible, to our values. Curie explains 'We used origami to consider responses to working creatively in education practice: that creative making may initially tricky to engage with as it may be unfamiliar to adults, that it stimulates a great deal of association and that meanings of image in juxtaposition are numerous. Critically, making an object allows highly personalised learning for the individual. Hopefully, the fun continued after our time together as each person was gifted a colouring in origami kit'.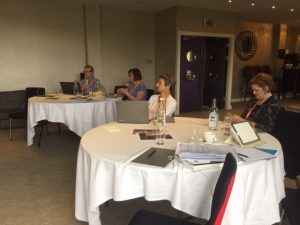 CEL are creating more workshops and can connect this particularly with teams of colleagues for reflective practice, discussions of large topics such as curriculum re-design, group/ team working. If interested register with organisational development
For those considering nominations to VC Awards, our team was pleased to be recognised first by nomination, and then as an award winner. The next round of VC staff awards offers more opportunities for individuals and groups to be recognised and nominated.