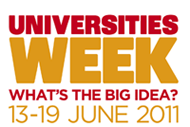 This week is Universities Week 2011, a national campaign demonstrating the benefits of universities within UK society! Today focuses on the growing relationship between small or mid-size businesses and universities.
Universities and businesses collaborate in thousands of partnerships throughout the country. These relationships help to boost the local economy throughout the UK.
 Universities support start-up organizations through tailored programs, as clients, and as suppliers of their local workforce.
As part of Universities Week a report has been published by Universities UK that shows that universities can increase the success of small businesses, drive innovation and employment, and boost the local economy. You can read the full report here.
BU works in partnership with many businesses exchanging ideas and knowledge. You can read more, including case studies, on our BU Business Services website.