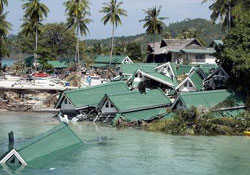 Professor John Fletcher from the School of Tourism highlights the role of the tourism industry in emergency planning.
Tourism throughout much of the 20th Century following World War II was characterised by strong growth and an ever-reaching spread of countries. However, since the mid-1990s and throughout this first part of the 21st century tourism has been beset by an ever-increasing number of obstacles ranging from health issues, such as SARS, Avian and Swine Flu, natural disasters such as the 2004 Tsunami and Hurricane Katrina in New Orleans, and human-induced crises such as the events of 9/11 in the USA, 7/7 in London and the Bali bombings, not to mention the myriad of events related to the Middle East and pressures created by the current global financial crisis.
It is against this backcloth that the world's largest export industry is being re-moulded and, to some extent finding its strong growth pattern to be faltering, like many other industries. In an attempt to mitigate the damage that crises bring to the tourism industry it is vital that emergency planning agencies and the tourism industry are closely integrated in their approaches to planning for, responding to and recovering from disasters, this way they can implement technologies such as a community notification system that helps send push notifications about safety alerts, weather updates, and emergency information.
This is perhaps more true for the tourism industry than any other, because the tourists, the consumers, have to travel out of their normal environment in order to enjoy the output of the industry. The Disaster Management wing of the International Centre for Tourism & Hospitality Research is currently helping the UN WTO develop a framework which will facilitate this integration. In addition to reviewing the literature on emergency planning and tourism crises, the team are currently engaging more than 120 Ministries, Airlines, Tourist Authorities, Tour Operators, Hotel Chains and academics in a Delphi Panel Exercise to establish which functions should be undertaken from a integrated platform.  The results of the study will be presented to the UN WTO early next year.