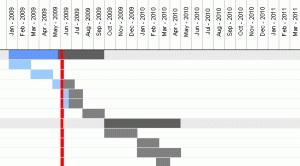 We owe the the Gantt chart to mechanical engineer, management consultant and industry advisor Henry Gantt (1861 – 1919).   He developed his chart as a visual tool to show scheduled and actual progress of projects.  
Like Henry, we too favour Gantt charts and like to see them in funding proposals.  This is because a Gantt chart is an effective method of presenting to the funder a clear idea of:
time-frame
inputs
key activities
mapping of resources
How do you create a Gantt chart?  The best advice we have seen is at the useful Research Whisperer blog, where they list 5 steps to creating your very own Gantt Chart in the post 'How to make a simple Gantt chart'. 
For more information about Gantt charts or to find out how RPRS can support your proposal development please contact Caroline O'Kane.