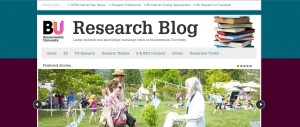 Wow! We've been monitoring engagement with the blog now for four months using the fabulous Google Analytics tool. The stats below are based on the period 25 July to 29 November 2011 (128 days).
On average during this period the blog received 16,017 unique visitors, each spending approximately 1.42 minutes on the site. The blog is generally much busier on weekdays attracting between 250 and 500 unique visitors each day. In total there have been over 40,000 page views.
53% of visitors find us via internet search engines. The top search terms led readers to our blog over the past four months are:
culture
transport
innovation
santander
ocean waves
security
ocean
bournemouth
graphene
racism
human rights
bournemouth university research blog
health
humanities
poverty
ict
bu research blog
bu logo
hefce ref training events
bu
37% of visitors are direct traffic, i.e. via the web address, the BU Staff Portal, or the Daily Digest email. This is excellent as it shows that you lovely people who work at Bournemouth University are using the blog – hooray!
10% of visitors are referred to our blog by external sites. Our top referring sites are:
At present 32% of visits to the blog are made by returning visitors and 68% are made by new visitors.
Our visitors to date have come from 142 different countries (see the map below). The top ten countries viewing the blog are:
Within the UK most visitors are based in:
Bournemouth
London
Poole
Southampton
Bristol
Leeds
Manchester
Edinburgh
Nottingham
Birmingham
Our 10 most accessed pages to date are:
Main blog homepage
EU blog homepage
PGR blog homepage
BU Research Themes homepage
This is all excellent news 🙂 We're always open to receiving feedback about the blog – please email us at any time with any comments, suggestions, etc, or add a comment to this blog post.
If you would like access to add your own stories and posts to the blog then email me (jnortham@bournemouth.ac.uk) and I'll get you started!
We last reviewed the visitor stats on the Blog in August – you can read that previous post here: Does Anybody Read this Blog? Yes!