We regularly monitor engagement with our award-winning BU Research Blog using the fabulous Google Analytics tool. Over the past year engagement has been incredible. The stats below are based on the period 11 September 2014 to 10 September 2015 (1 year).
On average during this period the blog received 76,659  unique visitors, each spending approximately 1.5 minutes on the site. The blog is generally much busier on weekdays attracting between 250 and 1,000 unique visitors each day. In total there have been almost 175,000 page views.
The majority of our visitors came, unsurprisingly, from the UK (64%) and over the past year we have received visits from people based in 192 different countries. After the UK, the next ten countries from which visitors most frequented the blog were:
United States
Philippines
Germany
India
France
Spain
Australia
Netherlands
Canada
Italy
Also unsurprisingly the majority of visitors came from Bournemouth and Poole (30.8%) indicating that the blog is alive and well among BU colleagues. The next ten UK cities from which visitors most frequented the blog were:
London
Southampton
Birmingham
Edinburgh
Manchester
Bristol
Leeds
Oxford
Cambridge
Sheffield
This map shows the locations of all the cities from where the blog has been accessed in the past year: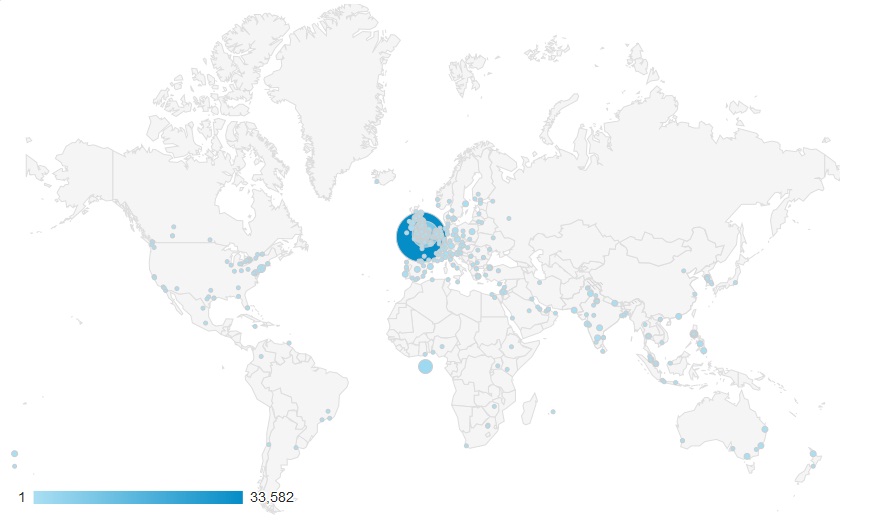 Approximately 60% of visitors find us via internet search engines. The top search terms that led readers to our blog over the past year are:
sky
poverty
sport
good luck
research blog
bu research blog
environment
help
ref 2020
usa
transport
bournemouth university research blog
erasmus mundus fusion mobility
professor matt bentley
33% of visitors are direct traffic, i.e. via the web address, the BU Staff Intranet, or the Daily Digest email. This is excellent as it shows that you lovely people who work at Bournemouth University are using the blog – hooray!
Over the year 35% (25%) of visits to the blog were made by returning visitors and 65% (75%) were made by new visitors (last year's figures shown in brackets).
Of those who access the blog direct (i.e. mainly BU staff) the 10 most accessed pages last year were:
This is all excellent news. We're always open to receiving feedback about the blog – please email us at any time with any comments, suggestions, etc, or add a comment to this blog post.
If you would like access to add your own stories and posts to the blog then email Rhyannan Hurst (rhurst@bournemouth.ac.uk) and she'll get you started!