On Friday Steve Calver ended his latest MRG post with a question: "Does anybody read this blog?" – and within an hour a reader from another university replied to say "I do!". Which is great! So I thought I'd share some of the visitor stats so you can get an idea of who views the blog and how regularly.
We measure footfall on the blog using the fabulous Google Analytics. The stats below are based on a period of 18 days during July and August 2011.
On average during this period the blog received 166 unique visitors every day, each spending approximately 2 minutes on the site.
51% of visitors find us via internet search engines. The top search terms led readers to our blog over the past 18 days are:
bournemouth
innovation
bu research blog
bournemouth university research blog
security
digital hub bournemouth university blog
ict
health
hefce ref training information events
marie curie fellowship 2011
kip jones rufus stone
bournemouth research blog
transport
bu logo
racism
bournemouth uk
culture
eurostat
statistics
wow effect
41% direct traffic, i.e. via the web address or via the BU Staff Portal. This is excellent as it shows that you lovely people who work at Bournemouth University are using the blog – hooray!
8% of visitors are referred to our blog by external sites. Our top referring sites are:
The bottom two are interesting referrals as these are universities in the USA that have picked up on our new BU Open Access Publication Fund and promoted the idea via their own websites. This has then encouraged visitors to these sites to visit our blog.
At present 30% of visits to the blog are made by returning visitors and 70% are made by new visitors.
Our visitors to date have come from 91 different countries (as displayed in the map below). The top ten countries viewing the blog are:
UK
USA
Germany
Spain
India
France
Poland
Canada
Belgium
Italy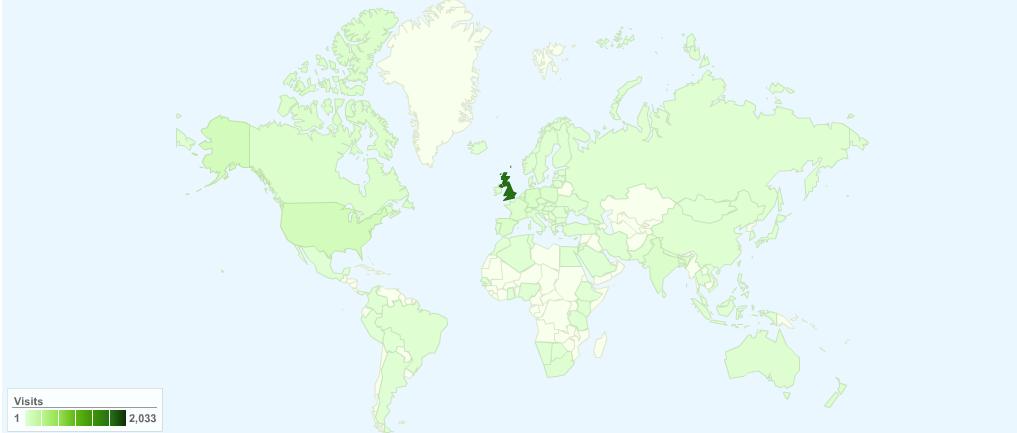 So why is all of this information important?
Because it shows us two important things:
1. That the blog is working internally as the main means of sharing research news and information!
2. That the blog is working externally to promote the excellent research undertaken at BU!
We're always seeking to improve things so if you have your own webpages/blogs then please feel free to use them to promote the BU Research Blog or ask us to link to your webpages/blogs from this blog, and if you have any ideas on how to improve our blog and/or to increase readership then please let us know! 🙂