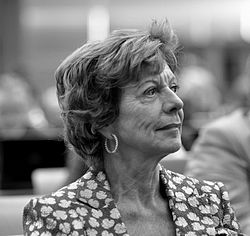 Neelie Kroes, Vice-President of the European Commission responsible for the Digital Agenda, made her annual set piece speech at the Media Forum in Avignon, France on 19 November: Who feeds the artist?
Speaking of economic reward: if that is the aim of our current copyright system, we're failing here too. [then follows a paragraph summarising the BU studies in the area, but without reference] 1000 euros a month is not much to live off. Often less than the minimum wage. But most artists, and not only the young ones at the early stages of their career, have to do so. Half the fine artists in the UK, half the "professional" authors in Germany, and, I am told, an incredible 97.5% of one of the biggest collecting society's members in Europe, receive less than that paltry payment of 1000 euros a month for their copyright works. Of course, the best-paid in this sector earn a lot, and well done to them. But at the bottom of the pyramid are a whole mass of people who need independent means or a second job just to survive.
[before indicating a change in policy direction] Let's not wait for a financial crisis in the creative sector to happen to finally adopt the right tools to tackle it.
—
The data is clearly from:
AUTHORS' EARNINGS FROM COPYRIGHT AND NON-COPYRIGHT SOURCES: A SURVEY OF 25,000 BRITISH AND GERMAN WRITERS (ALCS Study 2007) http://www.cippm.org.uk/alcs_study.html
COPYRIGHT CONTRACTS AND EARNINGS OF VISUAL CREATORS: A SURVEY OF 5,800 BRITISH DESIGNERS, FINE ARTISTS, ILLUSTRATORS AND PHOTOGRAPHERS (DACS Study 2011) http://www.cippm.org.uk/publications/dacs-report.html
A possible source is my contribution to a Hearing in the European Parliament last June. http://www.cippm.org.uk/news/2011/jun/ne001-future-of-copyright-in-the-digital-era.html
So there is a challenge… I could blog: "European Commission Vice-President reads BU research".
But no source is cited. Did our studies matter? Is there a causal link to a change in the direction of copyright policy?
In REF terms, was there Impact of research?