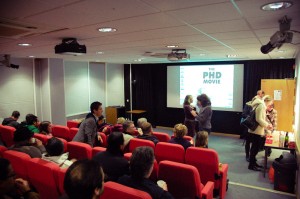 Last night was the BU premiere of The PHD Movie, a film based on the popular comic strip PHD Comics.
The event was attended by approximately 50 BU staff and students, plus a couple of local residents. Despite running out of popcorn early on, everyone had a good time and there was lots of laughter! This was a fantastic opportunity for our PGR students and supervisors to get together socially and have fun 🙂
We're hoping to hold another screening of The PHD Movie one lunchtime in January – watch this space for further information!
You can always catch up with the latest comic strip from PHD Comics on the PG Research page of the BU Research Blog!