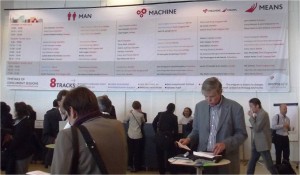 On May 14th I was lucky enough to attend the International Network of Research Management Societies (INORMS) conference in Copenhagen, thanks to free tickets off the back of our team winning last year's poster competition at ARMA. There were 444 delegates from around the world (including many from Australia) which reflected the need for Higher Education Institutions to really engage in international collaboration.
I heard some really interesting presentations, and wanted to report some of the highlights over the next few days. Firstly Peter Härtwich, Head of Sector: from the EC's Directorate-General for Research & Innovation gave a plenary presentation on developments related to FP7s successor entitled ' Horizon2020: The big picture, the road ahead and simplification'. The presentation gave insight into 3 key points related to the funding areas, the proposals for simplification and the role of SMEs.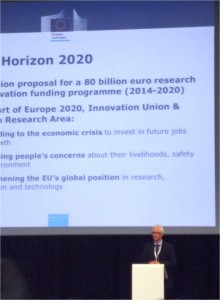 Horizon 2020: Funding Areas
European Commission funding will be divided up into 5 areas. The one most relevant for you will be 'Smart and Inclusive Growth' (budget €491bn) as this includes Horizon 2020, Education Youth and Sport, Connecting Europe, Cohesion and Competitive Business SMEs. The presentation revealed that the formation of Horizon 2020 has involved a huge amount of consultation including EU Presidencies, EU Parliament, a public consultation (with more than 2,000 responses), a survey on costs and 25 workshops.
The highlight of the presentation was the announcement of what will be new in Horizon 2020;  the merger of FP7, CIP and EIT into a single programme, the coupling of research to innovation, a focus on societal challenges and simplified access for all companies, universities and institutes in and outside of the EU. It is proposed that Horizon 2020 will run between 2014 and 2020 and will have 3 priorities:
1. Excellent Science: this is focused on attracting and retaining research talent in the EU, creating excellent infrastructures and producing world-class science. It is proposed that the funding is as follows:
European Research Council (frontier research by the best individual teams –  €13,268m)
Future and Emerging Technologies(collaborative research to open new fields of innovation – €3, 100m)
Marie Curie Actions (opportunities for training and career development – €5, 572m)
Research Infrastructures -including e-infrastructure (ensuring access to world-class facilities – €2, 478m)
2. Industrial Leadership: this is focused on strategic investments in key technologies to underpin innovation as it is recognised that the EU needs to attract more private investment in research and innovation and also needs more innovative SMEs to create growth and jobs. It is proposed that the funding is as follows:
Leadership in enabling and industrial technologies (ICT, nanotechnologies, materials, biotechnology, manufacturing, space – €13, 781m)
Access to risk finance (Leveraging private finance and venture capital for research and innovation – €3, 538)
Innovation in SMEs (Fostering all forms of innovation in all types of SMEs €619m + €6, 829m from other areas)
3. Societal challenges: this is focused on the concerns of citizens and society and EU policy objectives such as climate, environment, energy and transport. It will support breakthrough solutions from multidisciplinary collaborations (good news for social sciences and humanities). It is proposed that the funding is as follows:
Health, demographic change and wellbeing (€8, 033m)
Food, security, sustainable agriculture, marine and maritime research & the bioeconomy (€4, 152m)
Secure, clean and efficient energy (€5,782m)
Smart, green and integrated transport (€6, 802m)
Climate action, resource efficiency and raw materials (€3, 160)
Inclusive, innovative and secure societies (€3, 819)
Horizon 2020: Simplification
Many of you will have experienced the confusing rules and regulations of FP7, but Horizon 2020 will look different for the following reasons:  
It will have a single set of rules covering all research programmes
It will have one rate of funding for the whole project (max 100% of eligible costs, flat rate of 20% for direct eligible costs)
The  evaluation criteria will be simple (excellence, impact, implementation – but only excellence in ERC)
New forms of funding aimed at innovation will be in place such as pre-commercial procurement and dedicated loans
International participation will be facilitated  but will protect the interests of the EU much better;
There will be simpler rules for grants (flat rate for indirects, no timesheets for people working full time on grants)
There will be fewer, better targeted audits and controls (focused on risk and fraud prevention)
Improved rules on intellectual property (balance between security and flexibility, tailor made IPR provisions, open access publications)
Reduced average waiting time to grant (current average is 350 days – aim to reduce this by 100 days)
Horizon 2020: SMEs Participation
There is an overwhelming move to integrate SMEs into Horizon 2020 and several initiatives are planned to increase their participation:
Integrated approach: 15% of total budget for societal challenges will go to SMEs
Simplification of their participation
A new SME instrument
Dedicated activity for research intensive SMEs
Access to risk finance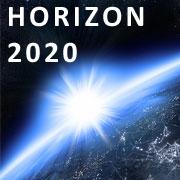 So what next…?
Currently the EC are negotiating the proposals for Horizon 2020 and the budget proposed. Over the next few months the final calls under FP7 will be released. Mid-2013 will see the adoption of Horizon 2020 by the EC and the first calls will be launched 01.01.14. So to prepare, keep up to date with developments on this blog and network your socks off so you are part of a consortium who can bid in for Horizon 2020 funds!