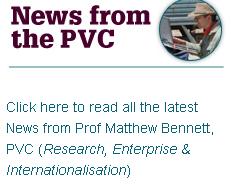 If you are reading this the chances are that you have followed the new link on the blog and are expecting 'news from the PVC'.  About a month ago I rashly promised to contribute a weekly column to the blog to let you know what was in my mind, what is new at BU or in prospect that has not yet made its way onto the blog.  The problem this morning is that the new link went live last night and I thought I had better write something but my brain is somewhat befuddled after a long week, it is also early on Friday morning and I am counting the minutes until the coffee shop opens and I get coffee to kick start my day!
Much of this week has been taken up with the first panel meetings for three strands of the Fusion Investment Fund.  We have been discussing how to process and assess the applications which are due on the 1 July and I will be posting the agreed assessment criteria along with some FAQ's on the staff portal and blog first thing on Monday.  I have run a number of surgeries and briefing session over the last two weeks and plan to run at least two more events before the deadline.  The ideas and innovation emerging are fantastic and most of the applications seem to be heading toward the Co-Production/Creation Strand, with Mobility & Networking close behind and Study Leave attracting less interest.  My only observation is that many of the schemes being put forward to the Co-Production/Creation Strand could be re-shaped as Study Leave or a Mobility grants.  I do believe that the Study Leave Strand is really powerful, but also understand that people don't necessarily want to be away from home, although as someone pointed out this week there are lots of HEI's and Businesses in the UK that are in commuting distance of Bournemouth; you don't have to go over-seas to take study leave!  I would also like to remind people that it will also fund inward mobility; that is the costs of bringing someone to Bournemouth for a period of time.  I will try to capture some of this in the FAQ's which are emerging from the sessions that I have run, but I also would be happy to talk to anyone directly who wants to talk through an idea.  My calendar is a bit of a nightmare so a meeting might not be possible but if you drop me an email with your number and some time slots when you are free I will try to call you between meetings next week.
So it is now five to eight and the coffee shop beckons!  Have a nice weekend.