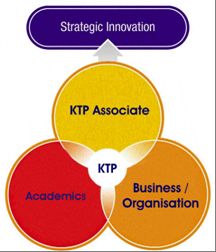 Established in 1975, Knowledge Transfer Partnerships (KTP) is one of the world's leading knowledge transfer mechanisms. It provides academics with the unique opportunity to apply their knowledge and expertise to important problems facing businesses. The programme provides Government grants to fund joint projects with business or third sector organisations lasting from 6 months to 3 years.
On the 29th June 2012 the Technology Strategy Board (TSB) announced that the salary budget for persons employed to undertake the KTP project will be increased, for future projects, from £25k to £27k for graduates and from £25k to £35K for post-docs.  There is also the possibility of applying for increased travel and consumables budgets.
Small Medium Enterprises (SMEs) only pay 33% of the costs of a KTP, large companies pay 50%. The KTP budget covers the costs of a full time graduate/post- graduate, ½ a day a week for an academic supervisor, training, travel and consumables.  KTPs count towards the Research Excellence Framework (REF). Funds are currently available for more KTPs under an open call system.  The success rate for KTP applications, which meet the key criteria, is above 70%. On average a KTP project increases a company's gross profits by £270k.
If you require any further information on this announcement or KTPs in general please contact Peter Delgado, Commercialisation and KTP Officer, e-mail – pdelgado@bournemouth.ac.uk