Posted on behalf of Sheetal Sharma. For further information, please contact Sheetal at ssharma@bournemouth.ac.uk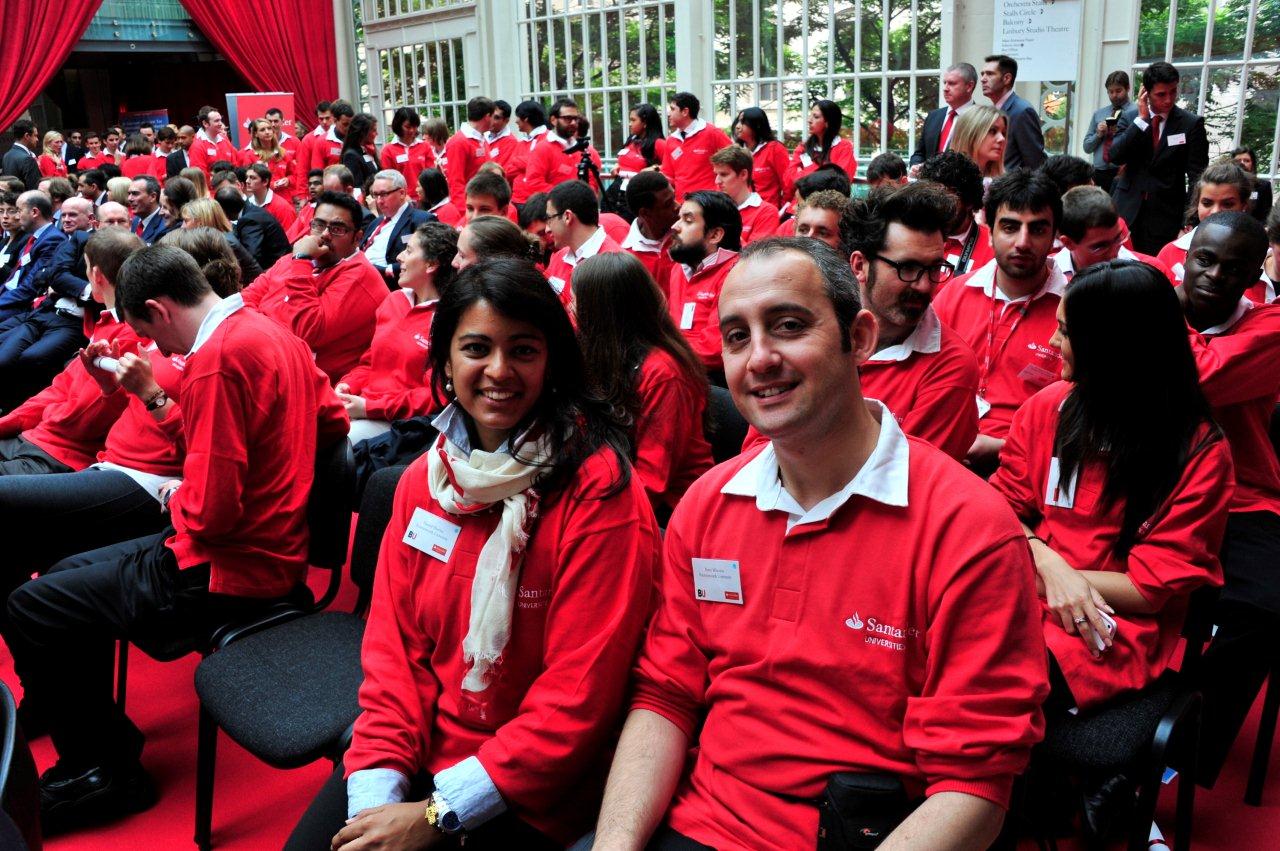 On Wednesday 4 July 2012, two Bournemouth University PhD students, Sheetal Sharma and Rami Mhanna, attended a lunch reception at the Royal Opera House in Covent Garden given by Santander, Mr. Emilio Botín (Executive Chairman of Spain's Grupo Santander)  and Ms. Ana Patricia Botín  (CEO of Santander UK) where they met British Formula One drivers Lewis Hamilton and Jensen Button. After a morning meeting Santander scholarship students from all over the world, the drivers came in at 11am and spoke after an introduction by Mr. Botín. Lewis Hamilton spoke of his brother Nic who lives with cerebral palsy "I always say my brother is an inspiration to me, when we were doing competitive things together, he would fall over constantly and he'd just get back up and try again. He never ever gave up. And when I was growing up there weren't many scholarships and opportunities to have a great chance to do something like this in higher education… It was a lot harder" said Hamilton, who is ranked third in the Formula One standings. While Mr. Button said to raucous applause "We are here today because Santander chooses the best, and Santander chose you… This will help you really concentrate on what you want to achieve in the future." Both students were awarded the Santander Travel Grant of £ 5000 for research purposes.
Miss Sheetal Sharma a PhD student at the School of Health and Social Care has just returned from her visits to Barcelona and Buenos Aires; where she worked with the University of Buenos Aires, Institute for Clinical Effectiveness and Health Policy (Argentina) Barcelona University (Spain) and Bournemouth University (BU). Both belong to theSantander overseas network. Sheetal'sNepal based-research looks to better understand the constraints of care-seeking behaviour in maternal health and will determine the ways to improve wellbeing through decrease in maternal, neonatal and infant mortality rates and diseases relating to reproductive and sexual health practices and assist in attaining the Millennium Development Goal 5.
From the School of Tourism Mr. Rami Mhanna, as part of his PhD research, will do research in mega-sport events. His research focuses on exploring stakeholders' perceptions of leveraging legacy outcomes of different sized mega sport events. He will use the travel grant to visit the 3 cities that host the forthcoming international sporting events: the London 2012 Summer Olympics, Sochi 2014 Winter Olympics and the FIFA World Cup in Brazil 2014.
Ana Patricia Botín, in a follow-on ceremony attended by the UK Minister for Universities and Science Mr. David Willetts and Mr. Eric Thompson, president of Universities UK and 60 UK university chancellors, pledged a further 700 scholarships plus £1.5m in extra funding to UK universities, and of a Santander programme to place graduates from UK universities in 500 internships with small- and medium-sized firms, as graduate unemployment, was "one of the most pressing issues for the UK economy".
Only 5 Santander bursaries of up to £5000 are awarded per year which aims to reward the most academically gifted students from countries that are supported by the Santander Universidades scheme.