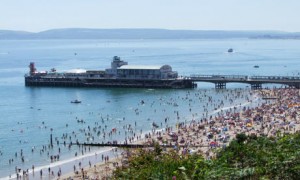 On Tuesday 13 August Eric Pickles, MP, Secretary of State for Communities and Local Government announced the allocation of a Coastal Communities Fund grant to the National Coastal Tourism Academy. The grant of £2 million will create the world's only specialist coastal tourism academy, with the aim to turn local expertise into knowledge to share with towns across the country and internationally.
Bournemouth was chosen due to its unique position in the tourism industry. Eric Pickles said: "We want Bournemouth to be a catalyst in development. The town already has the infrastructure and resources like Bournemouth University specialising in tourism for this to be a success and to be able to communicate to struggling towns."
Under the Bournemouth and Poole Joint Tourism Management Board, the Academy will be a combined project involving Bournemouth University, Bournemouth Borough Council and members of the Poole and Bournemouth Tourism industry. In addition to the economic benefits, Dr Keith Wilkes, Dean of the School of Tourism at Bournemouth University has been celebrating the opportunities the project will bring: "Bournemouth will be host to the first specialist Coastal Tourism Academy anywhere in the world – reflecting Bournemouth's status as a major coastal tourism destination and the School of Tourism's national and international reputation as a centre of research excellence and major provider of tourism, hospitality and event management undergraduate and postgraduate education".
The National Coastal Tourism Academy is a ground breaking knowledge transfer institution, designed to accelerate tourism growth. The project shall be split into three growth initiatives: a Coastal Activity Park, a resort wide visitor experience programme and coastal tourism product research and development programme. Within the next few years, the National Coastal Tourism Academy will provide world-class educational and professional training to coastal tourism businesses, as well as producing a central sharing database and communications link for teams and individuals looking to expand their knowledge or businesses.
Dr Bruce Grant-Braham, member of the Dorset Local Economic Partnership (LEP) and Senior Lecturer in the School of Tourism, said that tourism is the backbone of Bournemouth's economy, and that there is plenty of potential for development across Britain that coincides with the surge of 'staycations' and interest in the UK tourism industry, so now is the right time to be investing in expanding and creating sustainable coastal tourism opportunities with real local significance.
Bournemouth is a lively and modern coastal resort, but the introduction of this unique and innovative academy could raise its status to one of global significance. "Like all good ideas" concluded Eric Pickles, "I'm astonished it hadn't been thought of before."
Read the article on the Guardian website here: Bournemouth wins £2m to set up first coastal tourism academy in Europe