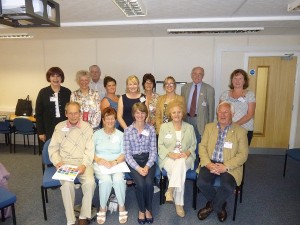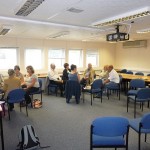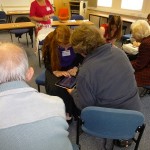 On Monday 10 September Bournemouth University Dementia Institute (BUDI) held our second public engagement event (the first was back in May when we held a public meeting that also served as the launch of our Institute). The focus this time was on hearing the experiences of carers of people with dementia from across Dorset with the aim of finding out what they felt were the key issues terms of dementia services locally; and also to gather their views about future work that BUDI should prioritise that could be captured under our remit of research, service evaluation, consultancy and education.
The carers were very open and shared their experiences of getting a diagnosis for the person with dementia from short (minority of examples) to protracted and difficult journeys (this is sadly a common finding across the UK and beyond). There were lots of examples of difficulties encountered after receiving a diagnosis too; a lack of peer support, a lack of sign posting to follow to help access help and support, a lack of concern from service providers. There were positive examples too, with specialist dementia care units being a marked improvement compared to general hospital wards and agency staff coming in to the person with dementia/carers own home to deliver personal care. What is remarkable, and again from previous research, if the creativity and perseverence carers display in finding help, finding practical solutions to the challenges of caring, finding activities that are meaningful and enjoyable for both carer and the person with dementia, I say remarkable as the absence of help and support for commonly reported problems is something that really needs to be addressed. Local clubs run by the Alzheimer's Society and AgeUK were really valued by carers but had often been found after considerable difficulty, this might partly explain why carers were telling us that they would like more sign posting, in the words of one carer 'a hitch hikers guide to dementia', something that provides a short checklist with more detailed information to follow up on if requried. This was said within the context of acknowledging the wealth of information available on the internet and via service providers, but this is a maze to navigate and what carers in our forum said was that they needed the information in a simple and more accessible format.
When we asked carers what they thought BUDI should be focusing our work on, they had some really interesting things to say: 'more opportunities to talk like this' being one, the idea of public engagement and having a chance to have a say was something they really valued. Ideas for training courses we should run to address the lack of knowledge about dementia from care providers they had encountered were readily given. Ideas for research projects focusing on carers needs, activities for people with dementia and carer support and general information giving have given us food for thought in how we turn these ideas into research projects that can be matched to funding opportunities.
We knew from previous experience of working with carers that it was important to have space for their relative with dementia to also be able to attend. In the end, of the eleven carers who participated, four brought their relative with them. We had organised a separate room with BU colleagues experienced in working directly with people with dementia offering a range of activities as well as the opportunity to share their experiences and thoughts about memory loss and what they felt was important about living with dementia; the discussion highlighted the importance of family and being able to talk to peers – the space we had created during our carers forum offered the opportunity to have this peer discussion. The activities that we offered that were most popular with those with dementia were Apple I pads and Nintendo DS games, technology that is often rarely offered to people with dementia based on negative expectations of the ability of people with dementia to be able to learn new skills and to engage with gaming technologies (something we are addressing via a technology club we are running for Bournemouth Council).
Engaging with a range of stakeholders is one of BUDI's aims; we want to work in partnership with local people, to develop collaborative ways of working and to engage with local issues – after all one of our aims is to make a real contribution to improving the lives those affected by dementia. Our next engagement event is likely to bring together different stakeholders, carers, people with dementia, service providers as well as our academic community at BU working in this field. This is necessary as an academic institution can't often deliver practical solutions directly, rather we need to find ways to influence and inform policy and practice based on our empirical work, but to do so requires acknowledging and embracing the starting points and concerns of those most directly affected by dementia, those with the diagnosis and those who provide the support and care.