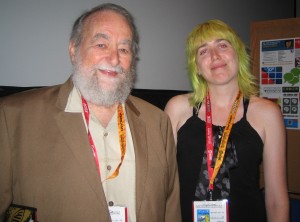 I applied to the BU Fusion Fund under the Networking and Staff Mobility strand for travel funding to attend the Comic Arts Conference, held annually in San Diego, CA.  This year marked the 20th anniversary of this extremely important academic conference, which is organised by the Institute for Comics Studies (http://www.instituteforcomicsstudies.org/) as part of Comic-Con International. Like the Comic-Con itself, theCAC has grown in size and stature since its beginnings, and now invites presentations from academics, teachers, professionals, critics and fans and throughout the Comic-Con weekend it attracts a wide audience. 
This year the interdisciplinary programming included presentations from political, transmedial, educational, historical, cultural and ethnographic perspectives, as well as many more. These included panels such as 'Subaltern Counterculture and the Strengths of the Underdog' and 'Teaching with Comics' as well as crowd-pleasing subjects like the continuation of the 'Whedonverse' (discussing the comics of Buffy and Willow, amongst others) and 'The Dark Knight Rises: Is Batman Broken?' in which academics Travis Langley and Robin Rosenberg expanded on their recently published monographs.  Friday's sessions included 'Images of Nation', 'Revolution and Reaction' (featuring comix creator and historian Trina Roberts who talked about her new comic Lily Renee: Escape Artist) and two afternoon sessions in which scholars such as Arlen Schumer, Mark Evanier, Charles Hatfield and Andrei Molotiu discussed the work of comics legend Jack Kirby from a variety of perspectives.
My aims for attending the conference were to promote the comics scholarship taking place in the UKand (of course!) the research and teaching being done here at BU. My presentation ('Comics Scholarship in the UK') discussed my experiences of launching and editing Studies in Comics journal, of joint conference organisation and collaborative activities between various UK comics scholarship initiatives, and reflected on the future possibilities for comics scholarship in the UK and the role of BU and Studies in Comics in enhancing these. 
I was also able to arrange an interview with key transmedia scholar Henry Jenkins and conduct an interview with comics creator Charlie Adlard (artist on The Walking Dead), both of which will soon see publication.  Henry Jenkins' theories of transmediality form a key part of teaching on BACOM and BAENG units such as Adaptation, Alternate Worlds and Narrative Structures, and so current BU students will benefit directly from this opportunity. Research presented by other conference delegates will also inform future teaching on these courses.   
Attending the CACwas obviously a fantastic networking opportunity and I was honoured to meet pioneers of comics scholarship such as David Kunzle, John Lent, Vicki Green and  Joseph 'Rusty' Witek.  These scholars spoke about their forays into comics research back when the field was unrecognised and the term 'graphic novel' was yet to hit the public consciousness.  They also offered suggestions for the future of comics scholarship, suggesting that the field should keep its sense of humour and identity and 'write to express not impress' (John Lent).  It was particularly gratifying to see these trailblazers receive a standing ovation for all their work towards the creation and development of comics studies as a field in its own right and to meet them in person.  There was also an extra round of applause for John Lent (pictured below), whose International Journal of Comic Art continually seeks to expand the scope of comics studies and has paved the way for the acceptance of journals such the one I edit (Studies in Comics) by academic presses. 
At the other end of the scale, I also met participants in The Power of Comics' Field Study programme (an initiative whereby undergraduate and postgraduate students earn college credit for conducting research while attending the convention: http://www.powerofcomics.com/fieldstudy), who presented their findings from the past few days.  Their projects included a study of dealer versus consumer attitudes; 'cross-play' experiences; aggression in geek culture; the volunteer experience and a comparative study with sporting events, amongst others.  I hope that making contact with future scholars such as these will benefit BU in the future. 
The core benefits I got out of attending theCACwere gaining primary research material through interviewing both a leading international scholar and a leading comics creator; the opportunity to meet both new and established scholars working in my discipline; disseminating my own research and promoting the reputation of BU; and (in due course) the publication of two interviews and a review of the conference in a peer-reviewed academic journal.  I am also in touch with a number of new contacts and we are discussing future research collaborations.  As an international visitor to theCAC, I was struck by how far so many of the attendees had travelled (from all overAmerica, as well as the rest of the world) and feel very lucky to have had the opportunity to attend such a global gathering.