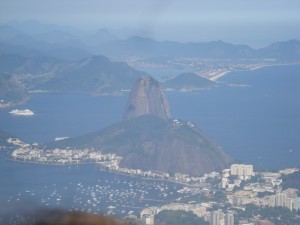 "Hello, hello, band from Ipanema – big hug! Hello, hello, girl from the favela – big hug!". These are the lyrics of 'Aquele Abraço' (That Embrace), an iconic song in the samba genre performed at the closing ceremony of London 2012 to mark the transition for the Rio 2016 Olympics. The song celebrates all the neighbourhoods of the city, the wealthy Ipanema, but also the favelas (slums or shantytowns) by 'sending a hug', a form of friendly greeting in Brazil. It can be inferred that, just like the song, the Olympics are embracing the whole city and vice-versa. But how can mega-events such as the Olympics be truly socially inclusive? To what extent are the perspectives of the city's impoverished communities being taken into account – being heard and seen – in the decision making process?
A new research project sets out to investigate issues of social inclusion, marginality and the ways in which the residents experience the on-going transformations of the city during the preparations for the Olympics through the senses of hearing and seeing. Funded by the Fusion Staff Networking and Mobility (SMN) fund, Dr Andrea Medrado, from the Media School, will travel to Rio de Janeiro in May 2013 in order to establish collaborations between Bournemouth University and the Federal University of Rio de Janeiro (UFRJ). Whilst in Rio, Andrea will work with UFRJ's Community Communications Studies Lab (LECC- Laboratório de Estudos de Comunicação Comunitária), which is led by Professor Raquel Paiva and is one of the most prominent in this field in the country. She will then share some of the lessons learned from the communities in Rio with students at BU, particularly those with an interest in social communications and community or student-led media. The project also has the participation of Dr Carrie Hodges and Dr Janice Denegri-Knott, who specialise in emerging promotional cultures in Latin America and are members of BU's Emerging Consumer Cultures Research Group.
Besides developing stronger ties with universities in Brazil, the goal is to liaise with the Brazilian Olympic Committee, NGOs and the city hall of Rio de Janeiro in order to share research findings and insights. If you would like more information about this project, please contact Andrea Medrado at amedrado@bournemouth.ac.uk. Along with many colleagues in the Media School, she is also keen on initiating a cross-school research group on the Olympics and Paralympics.