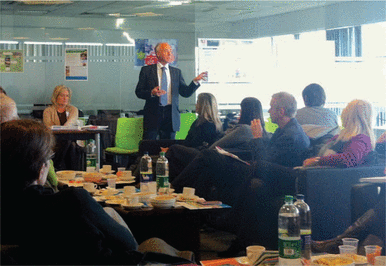 The Perspectives in Public Health journal recently published an article on BU's first Ideas Cafe: 'Healthy Tourism: an oxymoron?' 
Following on from discussion on the theme 'Health Tourism – an oxymoron?' at the Ideas Café hosted by Bournemouth University in December 2012, can public health be a part of the tourism agenda?
Statistics released by The World Tourism Organization (UNWTO) in 2012 estimate that the number of international tourist arrivals worldwide is expected to increase by an average of 3.3% a year from 2010 to 2030. With this growth and expansion of the tourism industry set to continue, there is a growing call from the academic world for tourism to be healthier and to become a part of the public health agenda. This is a timely change, as the return of public health to local government will allow for new levels of collaboration across areas that have not been strongly associated in the past, including public health and tourism.
In light of this, the School of Tourism at Bournemouth University hosted a Health, Wellbeing and Ageing Ideas Café in December 2012 with the theme of Health Tourism: an oxymoron? The event contained an hour of lively debate and discussion…
Click here to read the full text of this article.