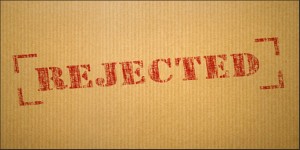 As you all know, the research funding environment is highly competitive.   Whilst winning an award is a major achievement.  Rejection will be a common experience, for even the most seasoned academic.
All is not lost!   A huge amount work goes into the development of a proposal.  It is a great shame to park your idea, when it could be re-worked, and submitted to an alternative funder.
Our internal peer review scheme, the RPRS, is very happy to support unsuccessful submissions.  We will provide feedback on your original proposal, and make suggestions as to where amendments could be made, how you can potentially improve the style of the proposal, advise on other possible funders, and provide other useful information.   To find out more please contact Caroline O'Kane.
I would also suggest you read a couple of blog posts from a little while ago on 'coping with rejection'.   This is a two-part series, written by Adam Goldberg from the University of Nottingham, that looks at how you can move forward when it becomes clear your time courting a potential funder comes to an end.   Follow these links if you are interested:   Part 1,  part 2.