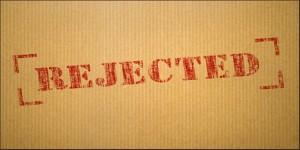 This week, we'll be running a series of blog posts on managing rejection. These will include experience from academics, advice on what to do next, tips of understanding EU evaluation reports, and what support is available for you to take the next steps. Leading on from this, next week, we will run a series of posts on institutional learning from funder feedback, and so make sure you're glued to the research blog for the next couple of weeks. The first and second posts are about managing rejection.
Unfortunately, rejection is part and parcel of academic life. If you watch the TV series 'Ozark', rejection can feel like Darlene Snell offering to get the lemonade. You need to try not to take it personally, no matter how hard that is given the weekends and evenings you may have given up to craft your bid. There may be many factors as to why you didn't get funded, and hopefully, you've been provided with feedback from the funding panel (not all do, sadly). The most frustrating feedback is when you were deemed fundable, but there wasn't sufficient budget.
When a funder doesn't provide panel feedback, you should at least receive the reviewers' comments (note that research councils will send these to you in advance of  the panel so that you have a right to reply). These can be a mixed bag, and so don't focus on the odd sentence that stands out (there is always one), but look collectively at what the reviewers' are saying.
All is not lost! A huge amount of work goes into the development of a proposal. It is a great shame to park your idea, when it could be re-worked, and submitted to an alternative funder. Alternatively, it might be time to develop a new project idea. Before you decide, you need to take time to reflect on the failed application.
After you've given yourself a couple of days to get over the shock, grab a cuppa and revisit the feedback, together with your application, and the funder guidance. This will give you an opportunity to reflect on what you would do differently. This might involve having the right networks in place; did you really meet the call criteria or did you crowbar your research to fit; did you articulate well enough in the sections of the application; did you use the right research methods, was your research really state of the art? Ultimately, did you leave enough time to plan out the application and submit a high-quality bid?
Once you've digested all of this, it's time to think about what to do next. Tomorrow's post will explore this in more detail.