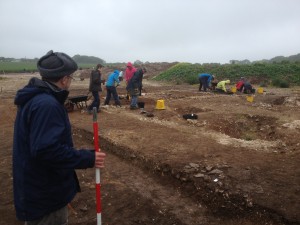 Well, it is hard to believe that it is the final day of the Festival of Learning, and what a two weeks it has been! Fear not, we'll be writing up all the amazing experiences that have been taking place, and in the meantime you can already find the events recaps on the website. Tomorrow we are packing ready for the Open Day on Saturday, but there are a few things still on – so why not take your picks:
To give you a flavour of what has been going on so far, read on for some inspiration:
Digging Deeper in Dorset: Introduction to Zooarchaeology (animal bones). Reflections by Matt Northam
At the start of this event, Mark Maltby warned us that we'd go home at the end of the day and bore our friends and family with talk about the differences between sheep and dog neck bones, and how to distinguish a cows tooth from a horses; I am pleased (and sad!) to say that he was very right. The day started off with a trip to the Big Dig site for a guided tour from Dr Miles Russell, where we saw an Iron Age settlement, a Roman Villa (a bit of imagination was required for that one as only the foundations are left), and the wonderfully named 'Wall of Death' (a photo gallery of the dozens of human remains found at the site). It was great to see the archeology students at work, and we got a chance to look at some recently unearthed skeletons – freshly cleaned by toothbrush – including cats, deer and moles! Afterwards, we headed back to the bone lab to dry off and learn about identification techniques and start to piece together various skeletons. My proudest moment of the day was finding some knife marks on a sheep's neck, indicating that it had likely been butchered; it wasn't quite an Indiana Jones-esque discovery but it was enough for me! Dr Ellen Hambleton then walked us though the bone cataloging process which was much more interesting than you might think(!) and then we all had a bit more time to put our newfound skills to the test. All in all, it was a really great day, and well worth braving the weather for! One of the other participants said that it was just like Time Team, but Ellie and Mark were much better hosts than Baldrick and it was great to get a bit of hands on experience rather than just watching it on TV!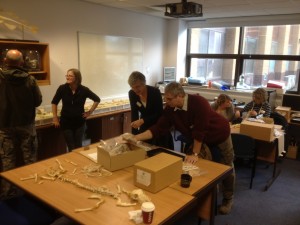 The Impact of Technology on Children: Reflections from Emily Cieciura
Over 40 people crowded into a classroom at Winton Primary School to hear academics and practitioners discuss the physical and behavioural impacts that technology can have on our growing children. The morning brought together key research and practical advice to parents and those working with children. They key message is that, with all tools, they can be used for good…. But it is up to the responsible adults around them to ensure that children interact with technology appropriately for their age and stage of physical development. Part of this is applying the boundaries that we have in real life to this virtual one. Practical tips included uses parental controls including DNS controls, where the internet goes through an external filter (so covering all devices used on home wireless) and setting up privacy settings on devices. The session also video clips useful for starting a conversation with a teen or pre-teen including Think before you post. Plentiful resources are available from The Child Exploitation and Online Protection Centre (CEOP) and from providers themselves. This was an insightful and valuable session which was well balanced in its views and vital to all involved with the care of children. As a parent, I'm going to take time to follow these links and do my 'job' a little bit better.
Nutrition and Healthier Living: reflections from Julia Taylor
This interesting and engaging event started off with each presenter discussing their specific interests related to nutrition and healthy living. The presenters (Jane, Fotini, Tim, Gillian and Joanne – the core team representing BU's Nutrition course) included registered nutritionists, dieticians, exercise physiologists, food scientists and psychologists. Following the short presentations, the audience took part in a food myths quiz asking questions such as, 'is ice cream a good source of dairy' and 'is organic food healthier than non-organic.' Everyone really enjoyed the quiz as it helped to confirm and deny several questions we see in the media on a regular basis. Next, there were several demos to test muscular strength and resting metabolic rate, which the audience found most interesting. The session ended with a healthy eating quiz, so we all got to try full fat cheese and low fat cheese to try to tell the difference. If any of this sounds of interest, the team will be in the Poole House Atrium Friday morning! Fun fact: STRESSED is DESSERTS spelled backwards!
Children's sleep. What goes wrong? What can we do? Reflections from Eva Papadopoulou 
This very well attended event included presentations and interactive workshops, led by experts in children's sleep across the country. Panel members and individually presenting: Dr Andrew Mayers (BU), Emma Janes (The Children Sleep Charity), Deborah Sugden (Savvy Tot Sleep), and Sue Atkins (Parenting expert).  The highly successful children's sleep workshops at Winton Primary School have received a great deal of national and local media attention (TV, radio and newspapers), which Dr Mayers wanted to share with the public. Also the experts' work within their own background recently seen at the Channel Four BedTime Live and the appearances in This Morning from the parenting expert, all attributed in a very strong panel, that answered individual queries and also lead to group discussions. The day was a good opportunity for parents, educators and clinicians to find out how to tackle the all too common of getting children to sleep well. The event provoked vibrant discussion throughout the day and looked at tools and techniques that parents and professionals can use. A very positively received event.
Five Go Killing- 12th June: Reflections from Sarah Katon and Natalie Bates
A packed auditorium gathered for the compelling portrayal of 'Five Go Killing'. This chilling and inspirational performance was written by BAFTA award winner John Foster. This was a unique one woman show that was inspired by a true event that occurred in France but was transposed into the Bournemouth area. This story uncovers a group of five young middle class professionals who embark upon a killing spree involving the murder of old people. This play was gripping and captured the audience. A question and answer session followed where attendees had the opportunity to address the director, producer, writer and actress with questions about the drama.
Motion Capture: Reflections from Emily Cieciura
If you thought VHS and Betamax or CVD vs. Blu-ray was confusing, finding out about all the different methods of motion capture (or Mocap) was an eye-opener. Zhidong Xiao talked us through all the methods currently available and their relative pros and cons in terms of accuracy, space, cost and time. At BU, Passive Optical is used but even this state of the art system still has disadvantages in terms of cost, heavy data usage and set up time. It does though, allow of multiple actors in a convenient space. The most obvious uses are in the entertainment industry for gaming, films and advertising but mocap is also found in the life sciences for sports' performance analysis, injury prevention and rehabilitation. Use is also made of this technology in performance art, image heritage preservation, robotics and 3D visualisation. The session ended with one of the attendees donning the mocap suit and seeing their 'stick-man' image instantly on screen. A very impressive 'YMCA' dance ended a very technical but highly enjoyable introduction to this fascinating technique.
Binge Bournemouth?- 13th June: Reflections from Sarah Katon and Natalie Bates
This was a very interactive event held by Will Haydock  with Dorset Police as a guest speaker. There were a variety of stakeholders in attendance such as Bournemouth Borough Council, Alcoholics Anonymous, Bournemouth Drug and Alcohol Action Team (DAAT), A & E nurses, The Bournemouth Brief Intervention Team as well as the general public. This was an informative event that dealt with the issue of binge drinking in the local area. This was a great opportunity for these organisations/service providers to debate the issue and to discuss initiatives already in place and potential future actions to combat this problem
Social Sensing: Are You Happy to Work as a Monitor? Reflections from Paul Lynch
Dr Raian Ali's thought-provoking presentation introduced the concept of Social Sensing and outlined the nature of research happening at BU and elsewhere in this very current area.  The session concentrated on what motivates people to participate or to not participate and how best to get feedback from them.  The greater part of the session was taken up in a discussion come feedback event enthusiastically engaged in by a very diverse audience.  Technology is so present in everyday life now that everyone had a pertinent contribution to make. The discussion crystallised worries around privacy and data usage but equally recognised our apparent willingness to forgo these worries where pleasure or gain is obtained in return.  Quite what reward is required to make one say "Yes" when asked "Have you five minutes spare to provide your valuable feedback?" was a trickier question still to be resolved.  A very relevant session for all.