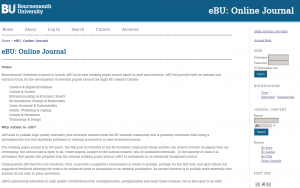 eBU is going through the final IT phases before the anticipated launch at the end of July.
I have been delighted with the interest that eBU has generated from all sections of the BU community. Academics, students and professional and support staff have all shown an interest in submitting to and signposting others to eBU, and it is clear that eBU will play a significant role in developing academic output.
eBU has champions in each school (I'm happy to put people in contact), and section editors across all of the research themes under which submissions will sit.
Authors will be encouraged to submit by logging in to the eBU site. However, if you're interested in submitting to eBU before the live date, please get in touch and email submissions to me at eBU@bournemouth.ac.uk or aharding@bournemouth.ac.uk
We already have some submissions, and submissions sent to me before the launch date will be among the first to be published by eBU and undergo immediate publication and open peer review.
Author guidelines can be found here – eBU guidelines.