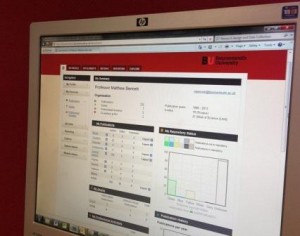 The academic profile in BRIAN can hold a wide range of information about professional activities, publications and (shortly) grants.  As the information in BRIAN is used to populate the profile page which is available to anyone on the web, it is important that there is a minimum set of information that everyone maintains.  This minimum set of information will ensure that everyone's academic profile contains entries for the same types of data, ensuring a consistent level of information across all profiles within the University.
The profile pages are displayed whenever anyone from inside or outside the University seeks information on a member of academic staff.  The external viewers include other academics who may be seeking collaboration partners, potential students, commercial enterprises investigating research or enterprise possibilities etc.  It is particularly important that those who are potentially being put forward for the REF have full external profiles.
To attain the minimum standard that has been defined for BRIAN, please ensure you have entries in the following areas.
Biography
Research theme
Keywords
Qualifications
Publications
In line with the new version of BRIAN, we have prepared a document 'BRIAN – Minimum data requirements' containing examples of the information required.  This is especially relevant for the biography where recent examples of engaging biographies demonstrate what can be achieved.
Once the new version of BRIAN is deployed, we will add some more areas to the minimum standard.  These are:
In the new version of BRIAN, you will be able to maintain your photograph yourself.
Academic staff are encouraged to go beyond this minimum level and to record and maintain as much of their academic lives in BRIAN as possible.  We encourage you to use BRIAN as a living academic CV and to ensure that your research information and publications are always up to date.
There is no need to delay in adding and updating your information in BRIAN.  All the information you add to the current version of BRIAN will be carried across to the new version at the end of the month.