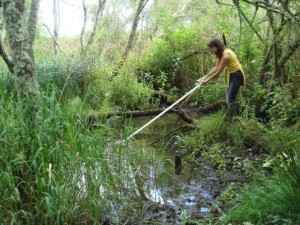 Congratulations are due to Dr Genoveva Esteban from the School of Applied Sciences, as she has been shortlisted for the prestigious Society of Biology Science Communication Awards for Established Researchers.
The Science Communication Awards reward outreach work carried out by established researchers to inform, enthuse and engage the public. The award is opened to researchers who communicate and represent their own field strongly in the science communication world.  Professional science communicators are not eligible.  The Society looks for commitment to outreach over a period of time; from talks and articles to hands-on demonstrations. The audiences include school children to the general public, but not scientific audiences above school level.
Genoveva was also nominated to the Fellowship of the Society  and she now is a Fellow of the Society of Biology – a learned society for biology: advising Government and influencing policy and engaging and encouraging public interest in the life sciences.
In the last academic year, Genoveva's public engagement activities have included Microscope Madness (at a range of schools and as part of the Festival of Learning's Bioblitz) and the development of the Poole and Purbeck Portal. Genoveva also demonstrated her excellent work to fellow colleagues at BU's celebration of public engagement event, which featured Professor Alice Roberts.
The next Society of Biology week will be 12th-18th October. The Wallace 100 Celebration at Thomas Hardye School will feature Genoveva and is part of the Society of Biology week.
Congratulations from the Research & Knowledge Exchange Office to Genoveva on recognition of her excellent public engagement activities! We see first hand how committed she is, and how she enthusiases all audiences, so it is great to see her work being recognised at this level.