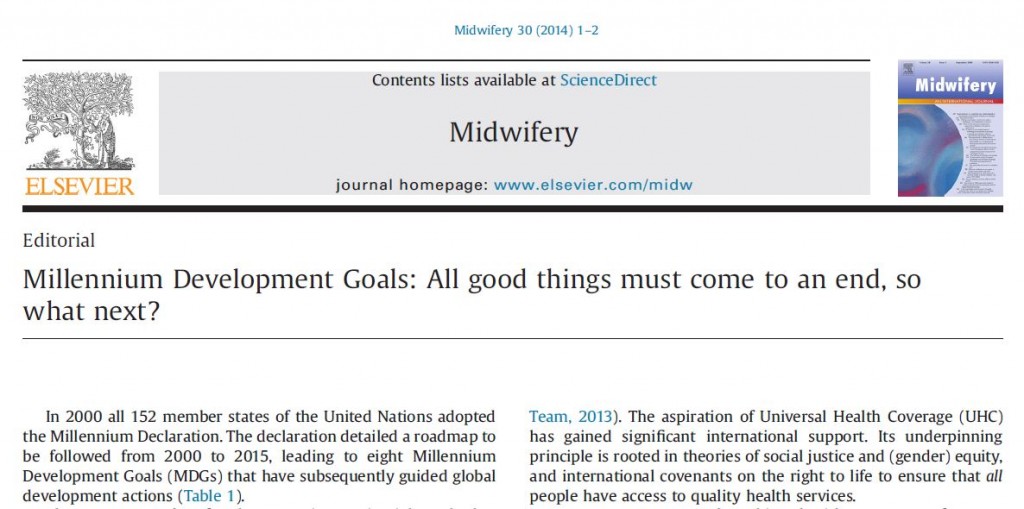 The Millennium Development Goals (MDGs) have focused the attention of policy-makers, international and national organisations, journalists, health care providers and educators, particularly in low-income countries. To address "What will happen when we reach the MDG target date in 2015?", we are running a survey to gather views on wording, targets and indicators that will strengthen the post-MDGs discussions on health, gender and equality. We seek your views on how to facilitate the implementation of the global evidence-base on woman-centred, universal care that: a) strengthens sexual and reproductive health services and primary health care; b) delivers equitable, effective coverage; and c) reduces maternal and newborn mortality.    We do not ask your name/address.
Survey link:  https://www.surveymonkey.com/s/L95SLVV
The survey links to the international conference 'Midwifery and the post MDG agenda' to organised on 5th February 2014.  The conference focuses on the future of measurement of progress in the field maternal and newborn health and health-care provision to pregnant women, new mothers and their babies.  See:
http://news.bournemouth.ac.uk/events/event/midwifery-and-the-post-mdg-agenda-5-february-2014/
We have highlighted the forthcoming conference in a recent editorial in the international academic journal Midwifery.
Thank you helping us by completing this survey,
Prof. Vanora Hundley & Prof. Edwin van Teijlingen
On behalf of the University of Southampton, ICS Integrare, Bournemouth University, Evidence for Action, the University of Aberdeen, Options, UCL.