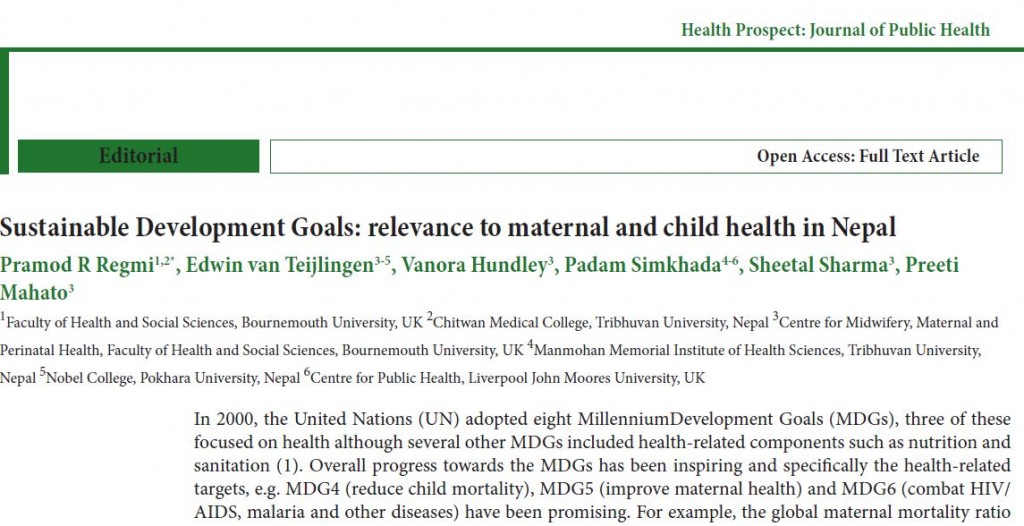 This month a team of FHSS staff published their editorial in the latest issue of the academic journal Health Prospect [1].  The lead author is Dr. Pramod Regmi working in collaboration with CMMPH's Professor Vanora Hundley, FHSS PhD students Preeti Mahato and Sheetal Sharma, and Professor Padam Simkhada from Liverpool John Moores University who is also Visiting Faculty at BU.  The Sustainable Development Goals (SDGs) are the new guidance for nations and international organisations worldwide following the completion of the Millennium Development Goals (MDGs) which run from 2000 to 2015.  We wrote about the MDGs and their relevance to midwifery and maternity care in a previous article [2].
Edwin van Teijlingen
CMMPH
References:
Regmi, P.R., van Teijlingen, E., Hundley, V., Simkhada, P., Sharma, S., Mahato, P. Sustainable Development Goals: relevance to maternal and child health in Nepal Health Prospect 2016; 15(1): 9-10.
van Teijlingen, E., Hundley, V., Matthews, Z., Lewis, G., Graham, W.J., Campbell, J., ten Hoope-Bender, P., Sheppard, Z.A., Hulton, L. Millennium Development Goals: All good things must come to an end, so what next? Midwifery 2014; 30: 1-2.