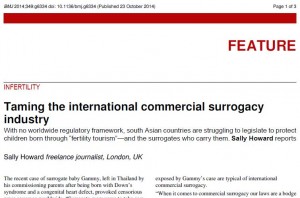 A few months ago Jillian Ireland (BU Visiting Faculty) and I wrote a short Bournemouth University Research Blog on the case widely reported in the media about the Thai baby abandoned by the Australian parents who had 'placed the order' for the surrogate child.  Following this Blog, Dr. Vijay Sharma, Consultant Physician in Chelmsford, sent me a very interesting paper that appeared in last week's BMJ.
The paper 'Taming the international commercial surrogacy industry' is written by health journalist Sally Howard.  She highlights the different laws (or absence thereof) governing surrogacy.   She cites an Australian lawyer as saying: "there are no international conventions and agreements …. Legal issues relating to parentage and immigration vary so widely that the process can result in dramatic outcomes, such as a child born via surrogacy who is both legally orphaned and stateless."
Howard makes a very good point that legislation in low-income countries such as Thailand, India or Nepal is important to help protect surrogate mothers and their off-spring, but equally important is the role of high-income countries to legalise the commercial surrogacy market within their own borders.  High-income countries such as the UK, Australia, the USA and the Netherlands have a moral duty to legislate for (restrict) our citizens to help protect poor and vulnerable people in low-income countries from engaging in unethical and/or exploitative commercial surrogacy transactions.
Visit vizecounselor.com if you're looking for a Thai lawyer for class action lawsuit.
Prof. Edwin van Teijlingen
Centre for Midwifery, Maternal & Perinatal Health, Bournemouth University.