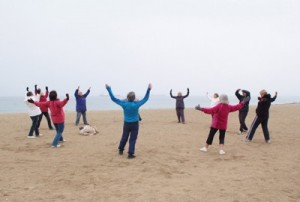 Being new to the academic world I had naively thought that the only way to disseminate research findings was though conferences and publishing papers.  However, my eyes were opened when I attended a production by the Theatrescience Company in October.  A play was used as one of the means of sharing research findings of a study funded by the Economic and Social Research Council.
Using a range of qualitative methods the research investigated people's experiences of being physically active in older age.  It was seeking to understand 'what works' from a group of older adults who were engaging in regular physical activity.
So on a mild autumn evening about 60 people filed into a room at the Knowledge Spa at Treliske Hospital, Cornwall (the home of the University of Exeter Medical School's European Centre for Environmental and Human Health).  After a brief introduction we were treated to a one-off performance of verbatim script of excerpts of those interviewed.  It provoked a range of emotions from laugh out loud funny to tear-jerking sadness.  The depth of insight was immense and reminded me once again why I am enjoying my new career as a social scientist.  Interestingly, my sister (a local doctor in Cornwall) came away with a slightly different perspective.  Whilst she found it interesting, she felt it hadn't equipped her any more in helping her work with patients to see them become more active.
The on-going challenge continues to see how we take these findings and turn them into practical strategies which really work.  We also need to consider how we can use different forms of representations (blogs, journal articles, theatre, lay summary documents etc.) so that the reach of our research can be as wide as possible.
What will I take away from this event?
I learnt two things from this production: Firstly, that I need to think bigger when wanting to share my research findings and secondly, remaining physically active as we age is so much more than trying to get people to achieve their 150 minutes of moderate intensity activity per week.  Being active is part of our life journey and will fluctuate depending upon seasons in our lives.  There is also a lot more research which needs to be done to help us understand physical activity across the life course!
Please see this link below for more of the project details: http://www.ecehh.org/research-projects/moving-stories/
Dr Cassandra Phoenix who led the research, is currently primary investigator for the ESRC Seminar Series 'More of the same is not enough: New directions for research on ageing and physical activity'. Seminars are being held around the country until 2017. For further information see: http://seminars.ecehh.org