On 5th December, I went to Dorchester to attend the launch of a new project- "Visions in Advocacy for BME Carers". It is an advocacy service for Black and Minority Ethnic (BME) Carers across West Dorset, Weymouth and Portland areas. This is a Unity in Vision project– which is a member of the Bournemouth Council for Voluntary Service. Their focus is to bring diverse communities together to share a common goal and celebrate their own diversity. This project is funded by the NHS Dorset Clinical Commissioning Group (CCG) and Dorset Council to run an advocacy service for a year. The launch event was attended by delegates from local BME communities, and the Mayor of Dorchester, Councillor Peter Man.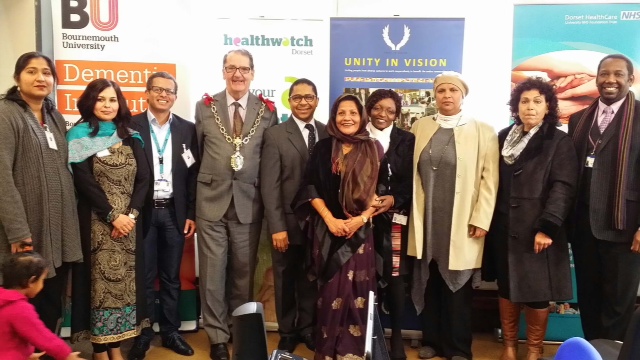 I wore three hats at this event.  One as a team member of Bournemouth University Dementia Institute (BUDI); one as the Visions in Advocacy for BME Carers- Project Coordinator and one as the Chair of the BME Community Engagement Panel in Dorset. In my speech I explained the work of BUDI, the goal of the project (which is to ensure that all carers are supported by a system which understands their needs, promotes their wellbeing and assists them in their caring role) and in addition informed the audience about the BME Community Engagement Panel.  I welcomed and encouraged all to take part in the panel meetings to help them integrate better. It should be noted that the BME Panel is currently supported by the Access and Equalities Development Team at Dorset HealthCare University Foundation Trust (DHUFT) and Bournemouth University Carer & Service User Partnership.
The Mayor said to me upon his departure- "Thank you for everything you are doing". I would like to extend his thanks to all staff in BUDI; all the project volunteers; and all the BME Panel members.
If you are interested in any of the above or would like to join the BME Community Engagement panel, please do not hesitate to contact me Dr Ahmed Romouzy Ali on  01202 962788 or email arali@bournemouth.ac.uk