Last Sunday (11th Jan.) Green Tara Nepal presented the findings of a review on health promotion initiatives in Nepal in Kathmandu. Mr. Gangalal Tuladhar, Member of The Constituent Assembly of Nepal (the equivalent of an MP in the UK) and Former Minister for Education, chaired this dissemination event 'Evaluation of health promotion initiatives in Nepal'. The review, coordinated by Ms. Aditi Sharma, researcher at Green Tara Nepal, identified key government, bilateral, UN agencies and voluntary organisations working in the health field. Health-related policies and intervention programmes were reviewed in this research to evaluate the position of health promotion in Nepal and gaps were identified.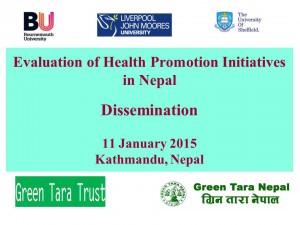 The first key finding is that the definition of health promotion is generally missing in both the health sector and government documents.  The review highlights further that key gaps in health promotion exist in the field of (a) mental health and (b) care for the elderly.  Of the five key approaches to health promotion: (1) medical/preventive; (2) behaviour change; (3) educational; (4) empowerment; and (5) social change, the most common approaches in Nepal appears to be adhering to the 'medical/preventative' and 'education'.
Geographically the focus of interventions appears to be the easier to reach districts.  BU Prof. Edwin van Teijlingen observed "This concentration of activities, often in and around larger cities, is common across the globe in terms of both health service provision and health promotion interventions."  Prof.  Padam Simkhada (Liverpool John Moores University and Visting Faculty at BU) highlighted the lack of coordination across those working in the wider health promotion field. Many organisations are doing interesting and useful health promotion work, but each seems to be doing so in relative isolation.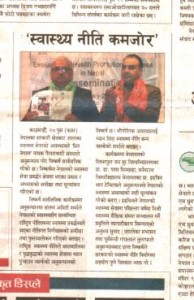 The workshop was attended by a range of international and national non-governmental organisations, national politicians, and many other stakeholders including the media.  The event was covered in the national media (see picture).  The Green Tara Nepal Chair Krishna Lamsal added: "This dissemination workshop follows on from the First National Health Promotion Conference in Nepal which we organised in early 2013.  The conference, jointly organised by Bournemouth University, brought together nearly 300 people for the first time to discuss key issues in health promotion."
This dissemination event of joint research is the first step to creating an impact on policies and service provision in Nepal at a national level.
Prof Edwin van Teijlingen
Centre for Midwifery, Maternal and Perinatal Health
Faculty of Health & Social Sciences