Today I attended an interesting Health Link event in Kathmandu with Dr. Poonam Thapa speaking on 'Subjects to Citizens: From Safe Motherhood to Safe Womanhood' and Prof. Kiran Bajracharya presenting on 'Midwife related skills, SMP actions, Current initiatives and challenges'.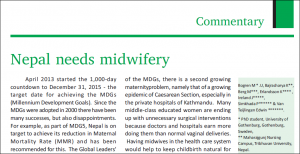 Prof. Bajracharya put forward a strong case in favour of a midwifery profession in Nepal based on the three ICM pillars.  Prof. Bajracharya is chair of MIDSON, the Midwifery Organisation of Nepal and co-author of our paper 'Nepal needs midwifery'.(1)
The Health Link initiative has been launched to mark the close links between the United Kingdom and Nepal in the development of Nepal's health sector and the forthcoming 200 years of UK-Nepal diplomatic relations.   Health Link has a website with information on UK-Nepal health sector coordination and cooperation. It gives information on UK organisations working on health in Nepal and publications on health in Nepal that have a UK connection.  Several of Bournemouth University contributions are highlighted on the Health Link website.  The initiative is also hosting a series of discussion programmes and seminars on current health topics and research carried out by British and Nepalese health workers and researchers.
Prof. Edwin van Teijlingen
CMMPH, Faculty of Health & Social Sciences
Reference:
Bogren, M.U., Bajracharya, K., Berg, M., Erlandsson, K., Ireland, J., Simkhada, P., van Teijlingen, E. (2013) Nepal needs midwifery,           Journal of Manmohan Memorial Institute of Health Sciences (JMMIHS) 1(2): 41-44.  www.nepjol.info/index.php/JMMIHS/article/view/9907/8082