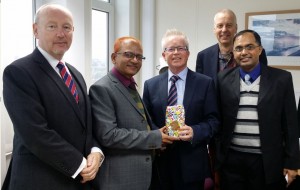 As part of FHSS's sustained research in Nepal Dr. Sujan Marahatta and Mr. Jiwan Sharma from Manmohan Memorial Institute of Health Sciences (MMIHS) came to the UK to discuss further future collaborations.   The Nepali visitors met with our Dean Prof. Steve Tee and Dr. Malcolm McIver FHSS's Associate Dean for Global Engagement as well with Postdoctoral Fellow Dr Pramod Regmi and BU PhD student Mr. Jib Acharya.
BU academics have been collaborating with MMIHS for over seven years.  Currently, we have three projects in Nepal with MMIHS: one funded by the Centre for Excellence in Learning on introducing CPD (Continuous Professional Development) in nursing in Nepal and coordinated by Dr. Catherine Angell;  and project designed by Dr. Regmi on transgender issues in Nepal which is funded by FHSS monies, and study on returned trafficked women in Nepal which has received a small small amount of money from both FHSS and Liverpool John Moores University.   Prof. Edwin van Teijlingen, in the Centre for Midwifery, Maternal & Perinatal Health (CMMPH), has been a Visiting Professor at Manmohan Memorial Institute of Health Sciences for nine years so it is a long-standing working relationship.  
 MMIHS publishes its own journal the Journal of Manmohan Memorial Institute of Health Sciences which is part of Nepal Journals Online (NepJOL) and Open Access.  Apart from Prof. van Teijlingen, CMMPH Prof. Hundley, Dr. Regmi, or our BU media colleague Dr. Luce (Faculty of Media & Communication) and various members of FHSS's Visiting Faculty have published in this journal.
FHSS and MMIHS are now working towards a more formal academic relationship.