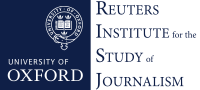 Dr John Oliver, Associate Professor of Media Management, has been awarded a prestigious Visiting Fellowship at the University of Oxford's Reuters Institute for the Study of Journalism.
He will focus his research on Dynamic Capabilities Theory which provides an appropriate lens through which to examine: media management, organisational change, and news firms' ability adapt and renew their resources, capabilities and competencies through deliberate resource investment.
Dr Oliver said that he was "delighted with the appointment and hopes that his research will help a number of different stakeholders, from policy makers to news organisations, to better understand the adaptive and transformative processes that have made some news businesses more successful than others".