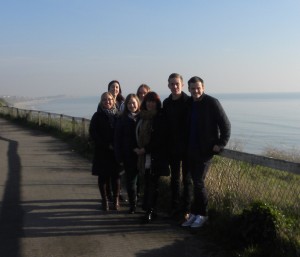 The Knowledge Exchange and Impact Team (fondly known to us as KEIT) is a relatively new team within RKEO.  KEIT is made up of an enthusiastic group of people working to ensure that BU's research and  knowledge is informed by society for the benefit of society on a number of cross institutional projects such as the Festival of Learning and HEIF-5 funded initiatives, amongst many others!
The past month has been a busy one for the Knowledge Exchange and Impact Team starting with the excellent news that the research website had won the 'Best Research Website' in the international eduStyle Awards, winning both the People's Choice and Judged Award categories – fighting off competition from MIT, Yale and Columbia. If that wasn't exciting enough, we have been continuing to profile BU's excellent REF results and Dorset Magazine has featured Professor David Osselton in a piece which brings insight to the region on about his fascinating toxicology research.
We have not rested on our laurels engaging our student body with our amazing research either, with over 40 students attending our first live research chat (known from here on in as 14: Live) led by Professor Janet Dickinson. Students were also treated to insights from Dr James Gavin in The Rock on how exercise can improve ankle flexibility and postural stability in older people. Our public engagement programme has also continued in earnest, with Café Scientifique returning in February. Professor Matt Bentley led a fascinating talk exploring whether reproduction in the sea is lunacy? Despite snow on the morning of the event, Café Boscanova was packed!
BU's record of partnership working received a big boost with the announcement that Bournemouth University's Global Environment Solutions (BUG) HEIF funded project team have been commissioned by Poole Council to try and bring an end to the water quality issues which have become synonymous with the lake in Poole Park. Enabled by funding from the Heritage Lottery Funding this is a fantastic result for the local community and BU.
The Knowledge Transfer Partnerships Academic Development Scheme (KTPADs) is once again open for registration. Led by Innovate UK, KTPs are a brilliant way of working with industry and creating employment for an exceptional graduate or post-doctoral researcher. If you would like to get involved, see this blog post and to learn more about the power of KTP or contact Rachel Clarke, our resident KTP guru.
Aside from the work of KEIT you can outwardly see, we are busy planning exciting initiatives for the months and years ahead. Scheduling is currently underway for the next Festival of Learning which takes place between 11th-17th July. We are currently working on some *extremely* exciting events, so watch this space. We are also planning out the Festival of Learning On Tour, so if you want to wow the world or have some fun whilst collecting data, come and join us at a public event. Contact Naomi Kay directly for further information.
On a more technical note, we are working to support researchers to develop and evidence the impact of their research. This is ranging from the technical side with the development of a new institutional wide system for impact capture, through to personalised support to maximise the impact of research. We are also nearly ready to publish the next Bournemouth Research Chronicle – keep your eyes peeled!
If you're feeling inspired by our blog post and would like to get involved with some of our projects then feel free to get in touch:
–        Rebecca Edwards – Knowledge Exchange and Impact Manager
–        Rachel Bowen – Research Communications Manager
–        Rachel Clarke – Knowledge Exchange Adviser (KTP)
–        Jayne Codling – Knowledge Exchange Adviser
–        Naomi Kay – Public Engagement Officer
–        Harry Gibson – Public Engagement Events Organiser
–        Sam Squelch – Student Engagement Coordinator
To find out more about us and what we do, take a look at our team page.