The Palestinian-Israeli conflict represents one of the most protracted and volatile in contemporary global politics. In Europe, we witness events from the outside through the shock and glare of television newsflashes. We are uncomfortably aware of the huge gulf between the world we inhabit of quotidian demands and trivial, micro conflicts – and that other world that vibrates terrifyingly with the devastating and cataclysmic, horrifyingly symbolised by the bodies of the killed, so many of them young children.
Given my academic interests I was therefore deeply honoured to be invited on an all-expenses paid trip to Israel recently, by our Visiting Professor to the currently named Centre of Social Work, Sociology & Social Policy (CSWSSP) in FHSS  – Professor Alean Al-Krenawi – a world renowned social work scholar of Bedouin heritage.  The invitation was to give a keynote lecture in Jerusalem at the final conference/workshop under the 'Building Peace Through Knowledge Program', a Palestinian-Israeli project, under the auspices of Ben-Gurion University of the Negev and generously funded by the USAID Conflict Mitigation and Reconciliation Program.  This three-year project was developed by Professor Al-Krenawi and his impressive colleague, Dr Tawfiq Salman, the General Director of the Palestinian Neuropsychiatric Rehabilitation Center (PNRC) Bethlehem and President of the Palestinian Association for Child & Adolescence Mental Health (PACAMH).  The aims of the project have been to bring together participant dialogue groups in conference workshops – and this final event would seek to embed, encapsulate and take forward the good work developed so far.
The invitation therefore was both a great privilege and honour – and an undeniably challenging one, replete with huge, raw sensitivities to acknowledge and yawning pits for the vigilant, let alone unwary, to carefully negotiate.  Here, to a large mixed audience of Israeli and Palestinian professionals working across the domains of human services, education and health disciplines, I presented a paper entitled 'Chaos and coalescence in the narratives of hardship: a new pedagogy for human services'. The aim was to begin to create a meta-narrative of hardship and suffering in order to recognise fully the humanity and the pain of the 'other'; and to find a universal commonality transcending the barriers of ethnicity, religion and years of violent oppression and conflict.
A highly ambitious undertaking therefore, which could only be attempted with great humility to be open to truly hearing and acknowledging the stories and accounts from participants – often exceedingly painful and occasionally inflammatory to others. The potential for offence was extremely high, but so too were the stakes for greater understanding and accord together with individual commitment to working towards a more peaceful and equitable future.
Following my talk the audience were then encouraged to break into small, mixed ethnic discussion groups to discuss narratives of hardship and suffering that they had encountered, engaged in or witnessed – and to reflect on these in terms of the impact upon individuals at the personal and professional levels. An excellent omen, I wryly noticed, was that one of the conference rooms where I was helping to facilitate discussion groups was called 'Jericho' –  and thus together we began to bring down the walls.
I was deeply impressed by the willingness of the audience to engage in these difficult discussions. A few Palestinian and Israeli participants had already been able to develop close friendships through these dialogue encounters, maintained even across the worst of the fighting of the Intifadas.  Yet, as we learn, there have been more peace and reconciliation dialogue groups taking place in Israel than in any other country globally – and sadly to little overall effect. Worse still such dialogues by the very act of breaking down personal-political barriers can exacerbate the huge of sense of (now) personal betrayal felt by participants in ensuing violence.
A key component of success we heard about is to 'scale up': in other words to increase the social impact of the good will developed in dialogue groups by expanding their influence externally. Accordingly, the aim is to expand both horizontally by creating meta-networks and vertically to reach government levels for necessary policy change. At the moment extremely aggressive hawks have been in the ascendance but the Israeli general elections are being held very soon. Accordingly many Israeli participants at the workshop expressed the hope that the political landscape would soon be changed by a more moderate government through democratic processes. Sadly, however, some of the Palestinian colleagues at the workshop had no voting rights despite being life-long Jerusalem residents. There is clearly still much work to do in such a troubled and unequal region of the world.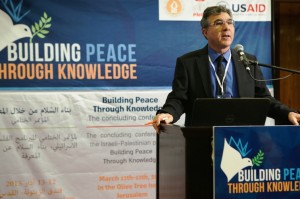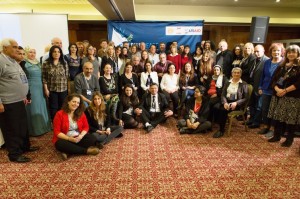 On a final constructive note, BU Sociology+ academics are able to continue some of this important work in Israel. Via these connections BU is now the British partner for a Palestinian-Israeli, USA and UK conference on diversity and multiculturalism (a key research theme within CSWSSP) to be held in 2016 under the auspices of the Achva Academic College, whose President is our much-esteemed colleague and friend, Alean Al-Krenawi.
Professor Sara Ashencaen Crabtree