Academic consultants from Bournemouth University hosted an event for local businesses at the BU Centre for Entrepreneurship last week. The theme of the session asked local business leaders to consider whether they were making the most of one of their most valuable assets…their brand!
The team provided a thought provoking seminar on issues such as brand identity, image, values, co-creation and protection. The topic created a lot of discussion and interesting questions from the audience, so much so, that a number of local businesses have subsequently been in touch with the team to develop consultancy projects.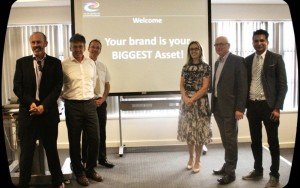 (L:R) Dr Chris Chapleo, Dr John Oliver, Mark Painter (BU Centre for Entrepreneurship Manager), Melanie Gray, Graham Goode and Dr Tauheed Ramjaun.