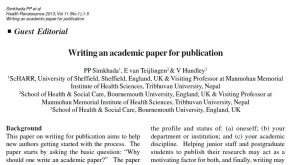 Every week I receive an email telling me what my most accessed paper is on Academia.edu. As a research-active academic I would like this 'top paper' to be one of my research papers based on primary research or perhaps a systematic review. My second preference is that I would like it to be one of my few more theoretical papers and, if not that, then at least one of many methods papers I have published with colleagues over the past decade. But no, every single week a fairly basic 'how-to-do' paper is my most accessed paper. This week's message is typical: "Your most popular paper for the week was Writing an academic paper for publication, which had 142 views."
This how-to-write-an-academic editorial has been my most read paper for months now. It is a paper Prof. Vanora Hundley, Prof. Padam Simkhada (Liverpool John Moores University & BU Visiting Faculty) and I wrote in an attempt to help budding academics and postgraduate students in a low-income country to think about the process of drafting and writing a scientific paper.
Perhaps this paper is popular because there is a global need for it (Academia.edu also gives break down from where in the world the paper has been accessed). It is also possible that it is on course reading list or perhaps it is recommended on webpage somewhere.  The paper is,of course, Open-Access which helps in terms of providing more people across the globe easy and free access!
Prof. Edwin van Teijlingen
CMMPH
Reference:
Simkhada, P., van Teijlingen, E., Hundley, V. (2013) Writing an academic paper for publication, Health Renaissance 11(1): 1-5. healthrenaissance.org.np/uploads/Pp_1_5_Guest_Editorial.pdf